Limited edition comes with the Kansai Dialect version 1st volume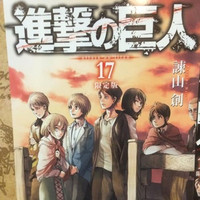 Shintaro Kawakubo (aka Back), the editor at Kodansha in charge of Hajime Isayama's mega hit manga series Attack on Titan, today officially posted a photo of the cover of the upcoming 17th volume, which is scheduled to be released in Japan on December 9. Its 1,058-yen limited edition comes with the 1st volume of the Kansai-ben/dialect version and nine-type of clear bookmarkers printed with the characters' famous lines in various Japanese dialects, for example, Koushu dialect for Levi and Hakata dialect for Erwin.
The regular edition of the previous 16th volume released on April 9 sold 868,694 copies in its first week, 141,851 less than that of the 15th volume with 1,010,545. Will the downtrend continue with the latest volume?
8月7日発売の「進撃の巨人」17巻の表紙です!関西弁版1巻&方言セリフつきクリアしおり9枚がセットになった限定版も同時発売です! pic.twitter.com/Xd7vqqHF9j

— 「進撃の巨人」担当者バック (@ShingekiKyojin) July 13, 2015
Source: @ShingekiKyojin
(C) Hajime Isayama/Kodansha