Directed by Kazuhiro Yoneda (Yona of the Dawn)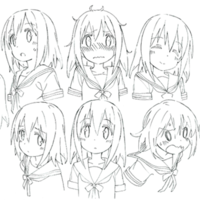 The official website for the upcoming TV anime adaptation of Sui Futami's comedy manga series Mahou Shoujo Nante Mouiidesukara. (I've Had Enough of a Magical Girl.) announced its main staff and production company today. Its official Twitter has also posted images of character reference of the protagonist girl Hanami Yuzuka. The TV anime is slated for the beginning of 2016.
The series has been serialized biweekly in the Comic Earth☆Star digital magazine since March 31 of this year, and currently 16 chapters are available. The story centers on Yuzuka Hanami, who is talked to by a mysterious creature that is scavenging food scraps in a dump site. It says that she has capabilities as a magical girl.
TV anime main staff:
Director: Kazuhiro Yoneda (Yona of the Dawn)
Series Composition: Kazuyuki Fudeyasu (Monster Musume, Is The Order a Rabbit?)
Scenarios: Kazuyuki Fudeyasu, Momoko Murakami (Pretty Rhythm, Locodoll)
Character Design/Chief Animation Director: Kazuaki Shimada (Encouragement of Climb)
Sound Director: Yukio Nagasaki (Love Live!)
Music Production: F.M.F (K-ON!)
Music: Masato Nakayama (Faylan, Yui Horie, Milky Holmes, Mamoru Miyano)
Anime Production: PINE JAM
【設定資料】 主人公、葉波ゆずか。 資料を見る限り、喜怒哀楽のはっきりした女の子のようです…?いったい彼女はどんな性格なのでしょう(° ꈊ °)✧ pic.twitter.com/XGMcJMC2cD

— 魔法少女なんてもういいですから。公式 (@mouii_desukara) 2015, 10月 15
Manga main visual
Source: "Mahou Shoujo Nante Mouiidesukara." TV anime official website
(C) EARTH STAR Entertainment