VA's urine test showed a positive reaction to the drug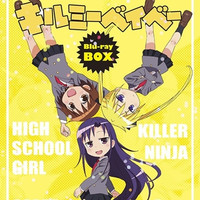 After the arrest of 27-year-old actress Ai Takabe for possession of cocaine on October 15, at least three Japanese streaming sites: Amazon Video, Nico Nico Douga and Bandai Channel have stopped selling the three anime series that she joined as voice actress in the past. She previously voiced in: Aoi Hana (2009) as Fumi Manjoume, Hourou Musuko (2011) as Maiko, Sacred Seven (2011) as SP, and Kill Me Baby (2012) as Agiri Goshiki.
Amazon Japan has removed Kill Me Baby from its Amazon Instant Video streaming service, Nico Nico Douga stopped Kill Me Baby and Aoi Hana, and Bandai Channel is no longer providing Kill Me Baby, Aoi Hana and Hourou Musuko. Meanwhile, Sacred Seven is still available on Bandai Channel for now, this is probably because her character in the show, SP was not a main character like others?
Tokyo Sports today reported that her urine test showed a positive reaction to the drug. In addition to
possession, she is expected to be also charged for actual use of cocaine soon.
Ai Takabe
via: Bandai Channel, Netlabo, Tokyo Sports
"Kill Me Baby" Blu-ray box image © Kazuho, Houbunsha/Kill Me Baby Production Committee