TRUE performs the OP theme song "Hiryu no Kishi"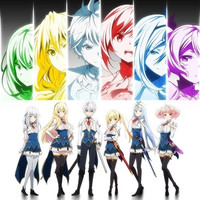 The official website for the upcoming TV anime adaptation of Senri Akatsuki's fantasy light novel series Saijyaku Muhai no Bahamut/Undefeated Bahamut Chronicle today announced its premiere schedule in Japan. Prior to the on-air, an advance screening event of its first episode and the last 12th episode of the ongoing Chivalry of a Failed Knight TV anime will be held at the Shinjuku Meji Yasuda Hall in Tokyo on December 20, 2015.
Premiere schedule:
AT-X: January 11 (22:30-)
Tokyo MX: January 11 (24:30-)
Sun TV: January 11 (25:00-)
KBS Kyoto: January 11 (25:00-)
TV Aichi: January 11 (26:35-)
BS11: January 16 (23:00-)
And its OP theme song "Hiryu no Kishi" (The Knight of Flying Dragon) is performed by 32-year-old
anison singer TRUE, and its CD single will be released as her 6th single on February 10, 2016.
Meanwhile, the ED song "Lime Tree" is provided by four-member Japanese rock band nano.RIPE, and
it will be released as their 15th major single on February 24.
TRUE
nano.RIPE
TV anime 1st PV
Source: "Undefeated Bahamut Chronicle" TV anime official website
© Senri Akatsuki, Sb Creative/Undefeated production Committee
© Lantis