Another man was arrested for shoplifting of 41 volumes of the manga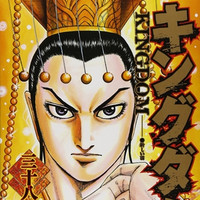 Osaka Prefectural Police's Anti Cybercrime Division and Kita-Higashi Station had arrested a 30-year-old unemployed man from Higashi Osaka-city on suspicion of copyright infringement (infringement of public transmission rights), then sent the case to the public prosecutor's office on February 19.
The suspect used the file-sharing software Share to upload the 38th volume of Yasuhisa Hara's Kingdom manga onto the internet from his house without the permission of the copyright holder on January 7. He has admitted his charge and said that he started using the software when he was a third grade high school student.
Meanwhile, Sapporo-Higashi station in Hokkaido also arrested a 23-year-old male construction worker for shoplifting on February 6. According to the police, the suspect stole the 1st to 41st volumes of the Kingdom manga all at once at a bookstore in Sapporo-city around at 13:50 on February 6. He put all the
tankobons into his shopping bag, but was captured by a clerk after stepping out of the store, then was
handed over to the police. Because so many books had been stolen, the store had kept their eyes on the
man as a suspect using security cameras.
"Kingdom" image © Yasuhisa Hara/Kodansha
---
Related:
Man Arrested for Selling Pirated "Sword Art Online" Mouse Pads
38-year-old Man Arrested for Posting "GATE" Episodes onto Video Sharing Site
Another 2 Chinese Arrested for Uploading "The Seven Deadly Sins" Manga
4 Men Arrested for Posting "One Piece" Latest Chapter Before Release
Man Arrested for Selling Pirated "Love Live!" Badges
Police Arrested Man Who Posted Robot Anime Videos, Theme Songs
50-Year-Old Unemployed Man Arrested for Uploading Manga via PerfectDark
High School Teacher Arrested for Uploading "Kuroko's Basketball" Manga
Unemployed Man Arrested for Uploading "Liar Game" Manga
40 People Arrested for Illegal Uploading of Anime, TV Drama in 3 Days
45-Year-Old Man Arrested for Selling Pirated Anime Stickers in Akihabara
Government Official Arrested for Posting "Gundam Unicorn" Episodes onto Video Sharing Site FC2
48-year-old Man Arrested for Uploading "Yo-Kai Watch" Anime Episode
Man Arrested for Selling One Dollar Bills with "One Piece" Images
46-year-old Unemployed Man Arrested for Posting "Maken-Ki! Two" on Video Sharing Site FC2
Two Japanese Men Arrested for Uploading "Berserk," "K-ON!" Manga
Man Arrested for Uploading "Attack on Titan" Manga 10th Volume
Man Arrested for Posting "Crayon Shin-chan" and "Black Jack" Anime on Video Sharing Site FC2
39-year-old Man Arrested for Uploading "Attack on Titan," "One Piece" TV Anime Episodes
Chinese Man Arrested for Selling Pirated Boa Hancock Figures