120th chapter is published in Shonen Sunday's latest issue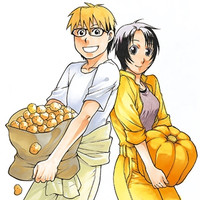 It is officially confirmed in the latest 43rd issue of Shogakukan's Weekly Shonen Sunday published today in Japan that Hiromu Arakawa's farming-themed manga Gin no Saji/Silver Spoon will go on hiatus again from the next issue for an indefinite period. The message was printed in the last page of the manga's 120th chapter published in the issue.
The manga has been serialized in the magazine sine 2011, but has taken long breaks a few times due to the health issue of the author's family member. The most recent break lasted for eight months from January to August 2016. It returned in the magazine's 40th issue released on August 31 with its 117th chapter, but has to take another break only after four episodes. The date for the resumption of its serialization will be announced in the magazine and its official website when it's ready.
Weekly Shonen Sunday 40th issue of 2016 cover featuring "Silver Spoon"
via: Mantan Web
© Hiromu Arakawa/Shogakukan Inc.