Kento Yamazaki sarà Josuke Higashikata e Yusuke Iseya sarà Jotaro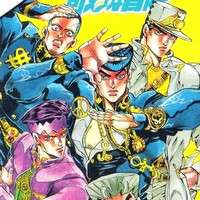 È stato confermato ufficialmente alla conferenza stampa congiunta di Toho e Warner Brothers Japan che un adattamento live-action di JoJo's Bizarre Adventure: Diamond Is Unbreakable, il quarto arco narrativo del manga di Hirohiko Araki JoJo's Bizarre Adventure, è in lavorazione e la prima parte uscirà nell'estate 2017. Confermato anche che il 56enne Takashi Miike (Yatterman the Movie, Dead or Alive, Ichi the Killer, Terra Formars) sarà il regista.
Interpreti principali
Josuke Higashikata: Kento Yamazaki (Yuuki Hase in One Week Friends)
Jotaro Kujo: Yusuke Iseya (Aoshi Shinomori in Rurouni Kenshin)
Koichi Hirose: Ryunosuke Kamiki (Akito Takagi in Bakuman.)
Okuyasu Nijimura: Mackenyu (Arata Wataya in Chihayafuru)
Keicho Nijimura: Masaki Okada (Hibito Nanba in Space Brothers)
Yukako Yamagishi: Nana Komatsu (Miho Azuki in Bakuman.)
Anjuro Katagiri/Angelo: Takayuki Yamada (Hideyoshi Hashiba in Nobunaga Concerto)
Tomoko Higashikata: Arisa Mizuki (Reiko Kudo in Reiko, the Psyche Resurrected)
Ryohei Higashikata: Jun Kunimura (Kubal in L'Attacco dei Giganti)
映画「ジョジョ」仗助役に山崎賢人、康一役に神木隆之介!監督は三池崇史 https://t.co/QKxrfT8k0q pic.twitter.com/R6fFtM6zNI

— コミックナタリー (@comic_natalie) September 28, 2016
[写真]実写版「ジョジョの奇妙な冒険」は超豪華キャスト!フォトギャラリー #ジョジョ #jojo #山崎賢人 https://t.co/j7zCbEKj8u

— シネマトゥデイ (@cinematoday) September 28, 2016
人気漫画『ジョジョの奇妙な冒険』が初の実写映画化 主演は山崎賢人https://t.co/HvQEHvJuIQ
#ジョジョ #山崎賢人 #三池崇史 #映画 pic.twitter.com/i5yNnlHETR

— ORICON STYLE (@oricon) September 28, 2016
話題の「ジョジョ」実写映画のキャストです。会見に登場した山崎賢人さん、神木隆之介さん、岡田将生さん、山田孝之さん https://t.co/6IxUGXJu4e #ジョジョの奇妙な冒険 #ジョジョ実写化 #ジョジョ #山崎賢人 #神木隆之介 #岡田将生 #山田孝之 pic.twitter.com/SkN8hBSJVJ

— mantanotaku (@mantanotaku) 2016年9月28日
In attesa del film, non perdete la serie anime in contemporanea con il Giappone e con sottotitoli in italiano su Crunchyroll.
Fonti: Cinema Today, Comic Natalie, Oricon Style, Mantan Web
Notizia originale di Mikikazu Komatsu.