These Converse's will be your roundabout.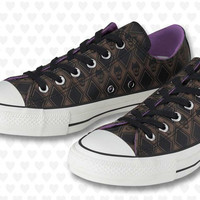 Hirohiko Araki and Converse are collaborating to release a line of sneakers with a JoJo's Bizarre Adventure: Diamond is Unbreakable theme. The sneakers will be released through Bandai's official shopping website, Premium Bandai.
Preorders for the shoes are being taken from December 16 until January 26. The shoes will be delivered sometime in July 2017.
[via Natalie]
-------
Fueled by horror, rainbow-sugar-pixel-rushes, and video games, Brittany is a freelancer who thrives on surrealism and ultraviolence. Follow her on Twitter @MolotovCupcake and check out her portfolio for more.