Isamu Kayano (Sakura Wars)-directed show will kick off on June 29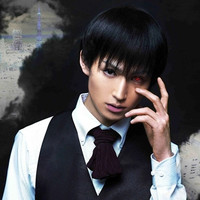 The official website for the upcoming second stage play adaptation of Sui Ishida's dark fantasy action manga series Tokyo Ghoul today updated with a first visual of 25-year-old actor Ryo Matsuda as the protagonist Ken Kaneki. He is best known as Hideyasu Jonouchi/Kamen Rider Gridon in the 15th Heisei Kamen Rider series Kamen Rider Gaim and has been starring in many stage play adaptations of popular games, anime and manga, such as Hakuouki (2012-2014), K (2014-2016), and Laughing Under the Clouds (2016). He replaces the first play's Yuuki Ogoe, while other main cast reprise their roles.
The second stage play will be again directed by the first play's Isamu Kayano, who has worked on the long-running musical stage show adaptations (Kayou Show) of Sakura Taisen/Sakura Wars since 2003. It is scheduled to be performed at Theater 1010 in Tokyo from June 29 to July 4, then at Umeda Art Theater Drama City in Osaka from July 8 to 9. Ticket information will be announced soon.
本日3/30(木)発売の週刊ヤングジャンプにて金木研役:松田凌さんのキャラクタービジュアルが発表されました!また劇場と公演日程も発表されました。東京:6/29(木)~7/4(火)シアター1010 大阪:7/8(土)~9(日)梅田芸術劇場シアター・ドラマシティです! pic.twitter.com/en7X0FTkIx

— 舞台『東京喰種トーキョーグール』【公式】 (@tkg_stage) March 30, 2017
Ryo Matsufa (Ken Kaneki)/Shogo Suzuki (Nishiki Nishio)
Mitsu Murata (Uta)/Tomokazu Yoshida (Renji Yomo)
---
The first stage play starring Yuuki Ogoe, who was 20-year-old at the time and was famous for his portray
as Ryoma Echizen in the second season of The Prince of Tennis musical between 2010 and 2014, was performed
10 times at AiiA 2.5 Theater Tokyo from July 2 to 8 in 2015, then five times at Kyoto-Gekijo from July 18 to 20.
Main visual for the first play
Source: Marvelous press release, "Tokyo Ghoul" stage play official website, Twitter
© Sui Ishida/Shueisha
© Stage Play "Tokyo Ghoul" Production Committee