Ryo Kitamura and Akita Miyazaki reprise their roles as the Okumura brothers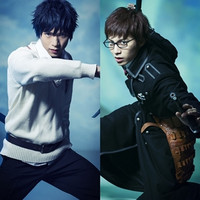 Aniplex announced today on August 4 that the fourth stage play based on Kazue Kato's Ao no Exorcist/Blue Exorcist dark fantasy shonen mamga series is set to be performed in Tokyo and Kobe this fall. The first stage play "LIVE ACT Ao no Exorcist -Satan no Rakuin" was performed in Tokyo in 2012. Then the second play "Ao no Exorcist -Ao no Honoo Kakusei-hen/Kyoto Fujyouou-hen" followed in 2014, the third play "Kyoto Guren-hen" in 2016.
The next play focuses on the "Shimane Illuminati Arc" told in the manga tankobon's 10th to 15th volumes. The two main cast from the previous third show, 26-year-old Ryo Kitamura (as Rin Okumura) and 26-year-old Shuto Miyazaki (Yukio Okumara) are confirmed to reprise their roles as the Okumura brothers.
The second and third play's Daisuke Nishida is once again attached to write and direct. The original
manga author Kato supervises the the script.
Stage play "Blue Exorcist: Shimane Illuminati Arc" schedule:
Tokyo: Zepp Blue Theater Roppongi (October 20-29, 2017)
Kobe: New Kobe Oriental Theater (November 3-5, 2017)
完全新作上演決定です!原作コミックス10巻から15巻にあたるエピソードを舞台化した『舞台「青の祓魔師」島根イルミナティ篇』は10/20~10/29東京、11/2~11/5神戸にて上演。詳しくは公式サイトをチェック!https://t.co/05MsggLrWp #舞台青エク

— 舞台「青の祓魔師」島根イルミナティ篇 (@aoex_stage) 2017年8月3日
Ryo Kitamura (Rin Okumura)
Shuto Miyazaki (Yukio Okumara)
---
1st play "LIVE ACT Ao no Exorcist -Satan no Rakuin" main visual
2nd play ""Ao no Exorcist -Ao no Honoo Kakusei-hen/Kyoto Fujyouou-hen" DVD jacket
3rd play "Ao no Exorcist: Kyoto Guren-hen" DVD jacket
Source: Aniplex press release
© 2017 Kazue Kato/Shueisha, Stage Play "Blue Exorcist" Project