Tomohiko Ito-directed film has earned 38 million dollars worldwide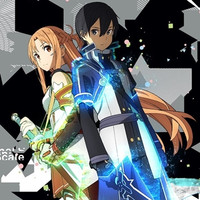 According to the latest Oricon sales report, the perfect limited edition of the DVD/Blu-ray of Sword Art Online The Movie: Ordinal Scale, released on September 29 in Japan, sold an impressive 20,000 and 89,000 units, respectively, in its first week, easily becoming the top-selling discs of the week. The regular editions of the DVD/Blu-ray also ranked in 3rd with 7,000 units and in 6th with 10,000 units.
The Sword Art Online Blu-rays have taken top spot in the Oricon weekly general sales chart for seven times so far. This is the first No.1 for its DVD, and is also the first time for the franchise to take top spot in both charts at the same time.
The film's special edition DVD/Blu-ray also renewed the franchise's total sales record. The previous record for its DVD was 9,000 units marked by the perfect limited production edition of the first volume
of the first Sword Art Online TV anime released in October 2012, and for its Blu-ray was 37,000 units
marked by the same disc. The two new discs surpassed the records in just one week.
Jacket illustrations
Digi-pack illustrations
The DVD/Blu-ray comes with a newly-written sequel novel Sword Art Online: Cordial Code by the original
novel author Reki Kawahara with illustrations by the novel illustrator abec. The story is set eight days after
the "Ordinal Scale" incident told in the film.
"Sword Art Online: Cordial Code" image visual
---
The all-new film based on Reki Kawahara's sci-fi action light novel series was released in Japan on February
18, 2017, and made an impressive 2.5 billion yen (about 22 million US dollars) in its domestic market by the
end of May. Aniplex reported today that the film's combined domestic and overseas grosses have reached
4.3 billion yen (38 million US dollars), including 860 million yen from the mainland China.
Poster visual for the theatrical release
Source: Oricon News, Aniplex press release
© Aniplex Inc.
©2016 REKI KAWAHARA/PUBLISHED BY KADOKAWA CORPORATION ASCII MEDIA WORKS/SAO MOVIE Project