Ryoichi Kuraya (Tsugumomo)-directed series will be streamed exclusively on Netflix in April 2018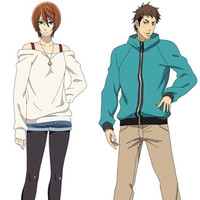 The official website for Doreiku The Animation, the upcoming TV anime adaptation of Shin'ichi Okada (story) and Hiroto Ohishi (arts)'s Dorei-ku: Boku to 23-nin no Dorei (Slave District: 23 Slaves and Me) manga announced its two main voice cast, Hibiku Yamamura (Kirara Amonogawa/Cure Twinkle in Go! Princess PreCure) as Eia Arakawa and Ryota Suzuki (Hayashi in Recovery of an MMO Junkie) as Yuga Ohta, and also posted a 45-second teaser PV introducing the character voices of the two.
The TV anime is written/directed by Ryoichi Kuraya (Tsugumomo), alongside character designer Junji Goto (High School DxD). ZERO-G (Tsugumomo, DIVE!!) and TNK (High School DxD, Bladedance of Elementalers) jointly work on anime production. It is set to premiere on Tokyo MX and BS11 in April 2018 and will be also streamed exclusively on Netflix.
Teaser PV
The based manga was serialized in DeNA and NTT Docomo's web manga/novel platform EveryStar and
its main series was compiled in 10 tankobon volumes from 2013 to 2016. Its live-action film adaptation
directed by Sakichi Sato (Tokyo Zombie) was released in June 2014.
The story revolves around a device called an SCM (slave control method), which can control other people
as your slave, and a survival game by its 24 users for their own purposes. Eia Arakawa is a part-time jobber
who has been bored with her mundane life. One day she meets Yuga Ohta and learns about SCM from him...
Eia Arakawa
【キャラクター紹介】荒川エイアCV:山村響
平凡な日常に退屈しているフリーター。ユウガに出会い、『SCM』の存在を知る。クールに見られがちだが、正義感が強く他人のために行動できるアツい面もある。洞察力にも長けている。 pic.twitter.com/2hkN4upKsP

— 『奴隷区』アニメ公式 (@doreiku_anime) 2017年12月25日
Yuga Ohta
【キャラクター紹介】大田ユウガCV:鈴木崚汰
熱中できるものを探し『SCM』を手にした野心家。
自分の能力や考えに絶対的な自信を持っており、勝負にスリルを求めるあまり、自らを危険に晒すことも厭わない。 pic.twitter.com/lwYmDVAMmv

— 『奴隷区』アニメ公式 (@doreiku_anime) 2017年12月25日
Teaser visual
TVアニメ『奴隷区 The Animation』の放送時期が決定いたしました!2018年4月放送予定となります。合わせて、スタッフ、アニメビジュアルを公開いたします! #奴隷区 pic.twitter.com/m6vFmpBVAV

— 『奴隷区』アニメ公式 (@doreiku_anime) 2017年11月25日
Source: "Doreiku The Animation" official website, Twitter
© "Doreiku The Animation" Production Committee