Reclutati anche Spacewar!, John Madden Football e Tomb Raider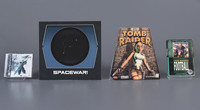 The Strong, il museo nazionale del gioco in Rochester, ha annunciato le nuove reclute per la sua Hall of Fame dei videogiochi. Le nuove leve includono Spacewar! (1962), John Madden Football (1990), Tomb Raider (1996) e Final Fantasy VII (1997).
Il campo di battaglia dei 12 finalisti comprendeva anche: Asteroids, Call of Duty, Dance Dance Revolution, Half-Life, King's Quest, Metroid, Minecraft e Ms. Pac-Man.
Questa hall of fame dei videogiochi è stata aperta nel 2015. I titoli inaugurali furono , Super Mario Bros. (1985), Doom (1993) e World of Warcraft (2004).
Nel 2016, The Strong aggiunse The Legend of Zelda (1986), Sonic the Hedgehog (1991), Space Invaders (1978), Grand Theft Auto III (2001), The Oregon Trail (1971) e The Sims (2000).
Sono poi stati aggiunti, nel 2017, Donkey Kong (1981), Halo: Combat Evolved (2001), Pokémon Red and Green (1996) e Street Fighter II (1991).
Così il museo descrive il processo di selezione:
Chiunque può nominare un gioco per la nostra Videogame Hall of Fame. Le selezioni finali sono fatte sotto il consiglio di giornalisti, studiosi e altre persone familiari con la storia dei videogiochi e il loro ruolo nella società.
L'International Center for the History of Electronic Games del museo ospita una mostra permanente della Hall of Fame honorees, la mostra eGameRevolution. Il museo ospita anche la Brian Sutton-Smith Library and Archives of Play, la National Toy Hall of Fame, la Woodbury School e la American Journal of Play.
Fonte: The Hollywood Reporter's Heat Vision Blog (Patrick Shanley)
Notizia originale di Crystalyn Hodgkins su AnimeNewsNetwork