Two-member anison duo ClariS provides their 20th single song "CheerS" as the OP theme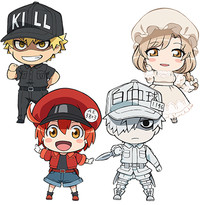 The official website for the upcoming TV anime adaptation of Akane Shimizu's Hataraku Saibou/Cells at Work! manga confirmed today that it is set to premiere on Tokyo MX, BS11, Tochigi TV, and Gunma TV on July 7, and also announced its four additional voice cast and the OP theme song performers.
Newly-announce cast:
Memory Cell: Yuichi Nakamura (Alto Saotome in Macross Frontier)
Mast Cell: Ayako Kawasumi (Saber in Fate/stay night)
Senpai (Senior) Red Blood Cell: Aya Endo (Sheryl Nome in Macross Frontier)
Pneumonia Coccus: Hiroyuki Yoshino (Yasutumo Arakita in Yowamushi Pedal)
The OP song "Mission! Ken-Kou-Dai-Ichi (health comes first)" is performed by the anime's four main voice
cast: Kana Hanazawa (Erythrocite), Tomoaki Maeno (Neutrophil), Daisuke Ono (Killer T Cell), and Kikuko
Inoue (Macrophage). As reported, two-member anison duo ClariS provides their next 20th single song
"CheerS" as the ED theme. The CD single of the ED theme is set to be released on August 15, then that
of the OP will follow one week later.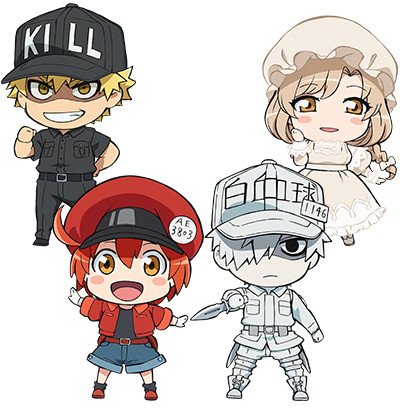 ClariS latest visual for their 19th single "PRIMALove" (February 28, 2018 release)
---
Previosuly announced main voice cast:
Neutrophil: Tomoaki Maeno (Hiro Hayami in KING OF PRISM by PrettyRhythm)
Erythrocite: Kana Hanazawa (Kosaki Onodera in Nisekoi)
Macrophage: Kikuko Inoue (Belldandy in Oh My Goddess)
Killer T Cell: Daisuke Ono (Jyushimatsu in Mr.Osomatsu)
Platelet: Maria Naganawa (Kamuri Sengoku in Slow Start)
Helper T Cell: Takahiro Sakurai (Osomatsu Matsuno in Mr.Osomatsu)
Requlatory T Cell: Saori Hayami (Miyuki Shiba in The Irregular at Magic High School)
Eosinophli: M.A.O (Hinako Sakuragi in Hinako Note)
Dendritic Cell: Nobuhiko Okamoto (Katsuki Bakugo in My Hero Academia)
TV anime Key visual
Source: Aniplex press release
© Akane Shimizu/Kodansha, Aniplex, david production