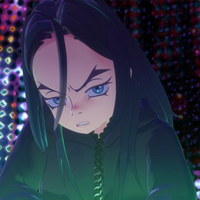 La cantante Billie Eilish ha debuttato con un video animato per il suo singolo "you should see me in a crown". Il video è stato creato dall'artista Takashi Murakami (Superflat Monogram, 6HP - Six Hearts Princess) e dal suo studio Poncotan.
Eilish ha twittato parte del video musicale lunedì. Può essere visto integralmente sull'app Apple Music e essere comprato su iTunes per 1,99 dollari.
Billie's official video for "you should see me in a crown", created in collaboration with @takashipom, is available now only on @AppleMusic. Watch it here: https://t.co/J1ZbhSfTgx pic.twitter.com/2WUeD9enJi

— billie eilish (@billieeilish) March 18, 2019
Murakami ha diretto il video che vanta il costume design e l'animazione di mebae (C – Control – The Money and Soul of Possibility). Yasufumi Soejima (serie animata di JoJo's Bizarre Adventure) è il direttore artistico.
Eilish è una cantante e compositrice americana di 18 anni. I suoi brani "Bored" e "Lovely" compaiono nella serie 13 Reasons Why e "When I Was Older" è inclusa nell'album Music Inspired by the Movie Roma.
Notizia originale di Lynzee Loveridge su AnimeNewsNetwork