The "DC Hero" campaign will include illustrations of Batman, Supergirl, and Aquaman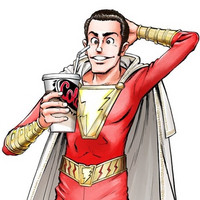 Warner Brothers Japan's Warner Bros. Home entertainment started digital streaming of Aquaman in Japan on May 8, and also released an illustration of Shazam for a forthcoming "DC Hero" collaboration campaign in June, produced by the late manga artist Monkey Punch, who passed away on April 11 due to pneumonia.
According to the press release, Monkey Punch, best known for his Lupin The Third series, was heavily influenced by DC Comics' "MAD" magazine, and it became an opportunity for him to make his debut as manga artist. Warner Brothers Japan asked him, who also loved American comics and cartoons such as Tom & Jerry, to serve as the producer for the "DC Hero" campaign, then he accepted the offer readily.
Unfortunately, Monkey Punch is not able to see the launch of the campaign, but more DC Comics
character illustrations produced by him, including Batman, Supergirl, and Aquaman, will be revealed
soon along with the details of the campaign.
/
????️モンキー・パンチプロデュース#シャザム ! イラストを解禁????
\

故モンキー・パンチ氏とDCヒーローのコラボが決定‼️
DCコミックスの「MAD」をきっかけに漫画家デビュー、アメコミもお好きだったモンキー・パンチ氏にDCヒーローをプロデュースいただきました????‍♂️

キャンペーン続報をお楽しみに✨ pic.twitter.com/vuiHfKZgAe

— DC公式 (@dc_jp) 2019年5月8日
\夢のコラボ実現/
モンキー・パンチ先生がDCヒーローをプロデュース!現在大ヒット上映中『#シャザム!』イラストを大公開⚡
さらにバットマンらお馴染みのDCヒーローも後日公開予定!! そしてキャンペーンが6月に始動決定!続報をお楽しみに✨

モンキー・パンチ先生、ありがとうございました…! pic.twitter.com/G6yFvq4DZJ

— ワーナー ブラザース ジャパン (@warnerjp) 2019年5月8日
---
Source: DC Japan officila Twitter, Warner Brothers Japan press release / official Twitter
(c) Monkey Punch/M・P・Works