Uesaka: "I am very honored to join the PreCure series with so much history!!"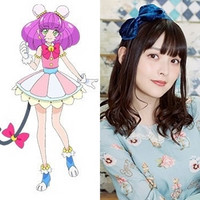 The official website for Toei Animation's ongoing 16th PreCure TV series Star☆Twinkle PreCure announced today that popular voice actress Sumire Uesaka (Sanae Dekomori in Love, Chunibyo & Other Delusions, Anastasia in THE [email protected] Cinderella Girls) will make a guest voice appearance in its 15th episode to be aired in Japan on Sunday.
This is her first appearance in the 16-year-old anime franchise. She plays a space idol character named Mao, alongside Subaru Kimura (Gian/Takeshi Goda in Doraemon) as Doramsu, a rich family's spoiled son.
The anime's official website has posted her comment as below:
"I am so honored to join the PreCure series with so much history!! Mao-chan is a character who is active
as space idol, and her atmosphere like 'She is absolutely the ideal idol!' makes her so attractive. I did my
best to say the 'Nyan♡" in the end of her sentences cutely. It is so exciting just to imagine about the space
and the constellations. I believe the sparkling world of Sta-Pre will awaken the power of imagination that
you have. Please look forward to seeing Mao-chan's activeness!!"
上坂すみれ:「プリキュア」初出演 宇宙アイドルのマオに どら息子ドラムス役に木村昴 https://t.co/DwwgOVI3ba

— MANTANWEB (まんたんウェブ) (@mantanweb) 2019年5月11日
15th episode trailer
---
Source: "Star☆Twinkle PreCure" official website via: Mantan Web
©ABC-A, Toei Animation