Marschiert euren Weg durch unsere Kostproben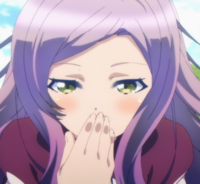 Am 11. September könnt ihr nicht nur unsere Synchro zu DARLING in the FRANXX erleben, auch ein anderer beliebter Titel aus unserem Katalog wird dann um eine deutsche Fassung erweitert. Denn auch Death March to the Parallel World Rhapsody präsentiert sich nun in neuem Gewand.
Wie üblich werden wir über die nächsten Tage diverse Clips veröffentlichen, die euch die deutschen Sprecher hinter Satou und seinen Begleiterinnen enthüllen. Kommt also regelmäßig wieder, um kein Update zu verpassen!
Die komplette deutsche Fassung von Death March to the Parallel World Rhapsody könnt ihr dann vollständig ab dem 11. September bei uns erleben!
| | |
| --- | --- |
| Charakter | Sprecher |
| Satou | Felix Mayer |
| Zena | Eleni Möller |
| Liza | Jenny Maria Meyer |
| Tama | Kerstin Dietrich |
| Pochi | Amria Leisner |
| Arisa | Mia Maron |
| Lulu | Lisa Dzyadik |
| Iona | Ilena Gwisdalla |
| Martha | Angelina Markiefka |
| Misanari | Nina Benz |
| Mosa | Sonja Reichelt |
| Nana | Nicole Hise |