Sunrise-produced 24-episode anime adaptation is available on Crunchyroll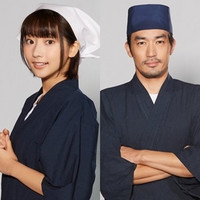 A ten-episode live-action TV drama adaptation of Natsuya Semikawa's fantasy light novel Isekai Izakaya "Nobu" / Isekai Izakaya: Japanese Food From Another World is scheduled to be aired on WOWOW from May 2020.
22-year-old Rena Takeda (Yuzuki Fuwa in the Assassination Classroom live-action films) is cast as Izakaya Nobu's waitress Shinobu Senke, while 39-year-old Ryohei Otani (GHOSTTOWN, Zenigata) plays the restaurant's owner Nobuyuki Yazawa. Japanese comedian/film director Hiroshi Shinagawa (Sanbun no Ichi, Z Island) is attached to write and direct. The shooting was held mainly in Tokyo from November 2019, then already wrapped up at the end of December.
The novel author Semikawa says, "'I can't believe,' was my honest impression. Even though it is set in an izakaya, it is a story about a different world, so there are many things that are difficult to depict in live-action. But I was very happy to hear that they wanted to adapt it into a drama even if they had to clear that hurdle."
\実写ドラマ化決定????/#WOWOW オリジナルドラマ
『#異世界居酒屋「のぶ」』
5月放送予定⇒https://t.co/kNlojp9yGd

主演 #大谷亮平×共演 #武田玲奈×監督&脚本 #品川ヒロシ
新感覚の異世界グルメドラマが誕生✨
「のぶ」を訪れる登場人物達のキャストは今後発表????#蝉川夏哉 #異世界居酒屋のぶ pic.twitter.com/28oEkykegW

— WOWOWオリジナルドラマ (@drama_wowow) January 25, 2020
おはようございます☀
本日解禁となりましたが、この度WOWOWドラマ「異世界居酒屋『のぶ』」に主演させていただくことになりました????✨

年内はこちらの撮影に励んでおりました☺️
グルメファンタジーということで調理シーンは必見です????????
放送はもう少し先ですが、お楽しみに‼️#異世界居酒屋のぶ pic.twitter.com/0EQ6S4Awv6

— 大谷亮平 STAFF (@ryohei_otani) January 24, 2020
---
The web anime adaptation of the novel directed by Katsumi Ono (Yu-Gi-Oh! 5D's, Symphogear G/GX/AXZ) and animated by Sunrise was streamed for 24 episodes on various services worldwide from April to September 2018.
The Isekai Izakaya: Japanese Food From Another World anime is available to Crunchyroll members worldwide except for Asia.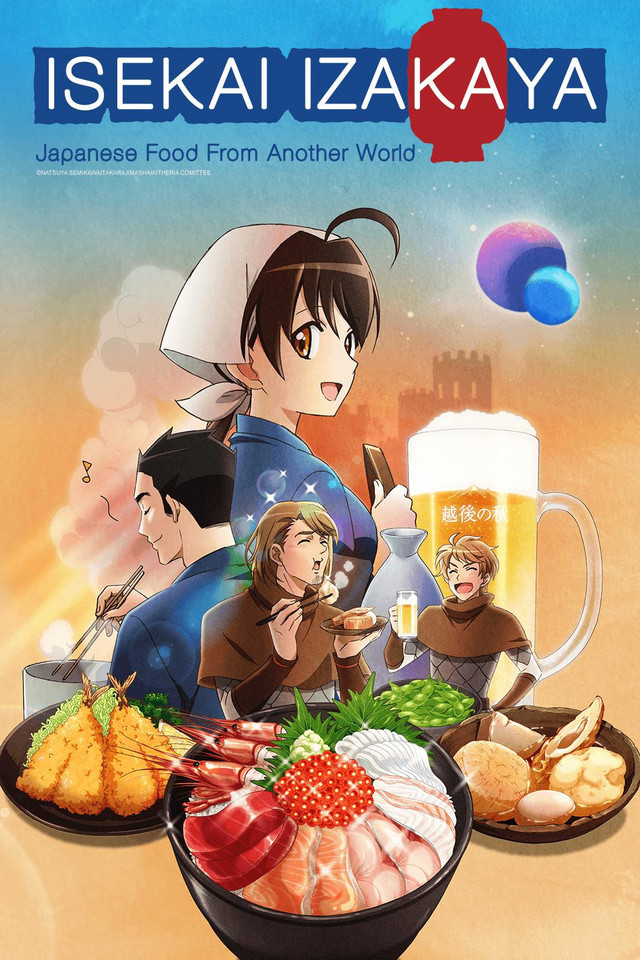 Synopsis:
Izakaya "Nobu" is a modest establishment, staffed by only two people: master, Nobuyuki Yazawa, and
server, Shinobu Senke.
Despite its humble appearance, its entrance is mysteriously connected to an ancient city from another
world: "Aitheria." Nobu's patrons consist of lazy palace guards, incognito clergymen, and the Waterworks
Guildmaster – certainly not your average clientele!
But once they enter Nobu's doors, they are greeted with the finest alcohol they've ever tasted and dishes
the likes of which they've never seen. With the food plentiful and the drinks flowing, the patrons leave
their troubles at the door as they call, "Give me a cold ale, master!"
---
Source: WOWOW
© "Isekai Izakaya ~Koto Aiteria no Izakaya "Nobu" Production Committee
© Natsuya Semikawa, Kururi/Takarajimasha