Vi vogliamo mostrare delle incredibili opere realizzate dai fan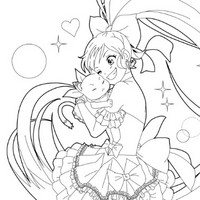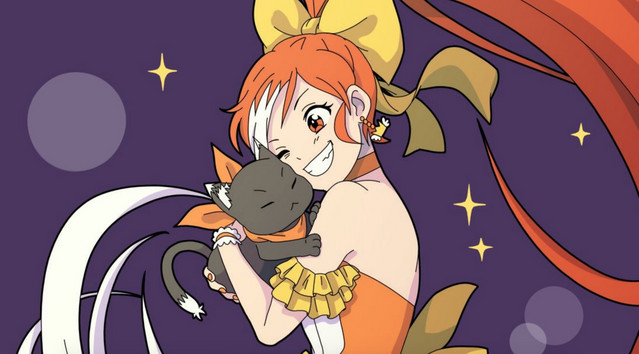 Oggi è il compleanno ufficiale di Crunchyroll-Hime, dunque vogliamo celebrare l'evento in ogni modo possibile. Uno dei migliori modi per ringraziarla, soprattutto dopo tutti i consigli che ci ha dato ultimamente su che serie vedere, è andare a guardare i risultati strabilianti del progetto #ColorHime!

Ecco a voi alcune opere giunte da tutto il mondo tra cui America, Germania, Italia, Indonesia e i paesi di lingua araba.

She is so cute#ColorHime@Crunchyroll thanks for the lineart and i hope you like it! pic.twitter.com/a3kF6i5qoP

— zekushii (@zekushii_) May 7, 2020
I Hope Hime Likes it #colorhime @Crunchyroll @crunchyroll_la pic.twitter.com/qah2yE61WS

— Royal at Home (@royal_nettori) May 21, 2020
How did I do? #ColorHime pic.twitter.com/C8Gs92QHgs

— Christine Ye ʬ⁸⁴ (@Christine__Ye) May 1, 2020
Anime is something I adore and it has been important to me.I love you Anime YT.#ColorHime @crunchyroll_es pic.twitter.com/1HUmsXVPe0

— New Game123 (@NewGame78228456) May 3, 2020
#colorhime
Still practicing my colouring style! https://t.co/XBpdCJsF9w pic.twitter.com/E7fIqzZaUK

— Wooly @ MSCB KYUN!! (@wooly_chan) May 16, 2020
I am done with my hime coloring #colorhime pic.twitter.com/17jyTMQHxS

— MoniKun23 (@Kun23Moni) May 1, 2020
My colorization @Crunchyroll #ColorHime pic.twitter.com/nqP7elIllU

— kibo (@HyugaRum) May 2, 2020
I did my best (UwU), what did you think? #ColorHime@Crunchyroll pic.twitter.com/TI8bQeJzcG

— Sayuri - Lisy ☆ (@Sandy25104598) May 2, 2020
Colouring this was fun! #ColorHime pic.twitter.com/q1XC2B4rqE

— Vegetated Entertainment (@VegetatedEnt) May 2, 2020
Why in pink ?
Because.#ColorHime pic.twitter.com/H9HIJrhbem

— Aocchi (@_Aocchi) May 1, 2020
Spent my Saturday evening doing @Crunchyroll's #Colorhime challenge, which was honestly such a lovely way to relax.

In fact, it was /so/ relaxing that I colored two versions of Hime: Classic Hime and Miku Hime!

(I kind of want to color two more...) pic.twitter.com/AJeH5eoB6T

— Rene James (Melon) (@mellowmelonpan) May 2, 2020
It's like Sailor Moon or something#colorhime https://t.co/esh7mHJr4u pic.twitter.com/N8iLaZ60ym

— PegChamp (@JessyOwO) May 11, 2020
Colored Hime for #ColorHime
Hope you like it @Crunchyroll ! pic.twitter.com/zVjgEYrASt

— Yuna (@Yunaruu) May 3, 2020
There you go uncle Crunchy #ColorHime #digitalcoloring #anime #crunchyroll pic.twitter.com/lgVCKZKeHC

— (@LeoPloser) May 2, 2020
Sorry for late,,,(just found this today)

I try my best to colouring it, its been a while for me (digi-coloring) so thanks for great line art @Crunchyroll

Much love from Indonesia Terima Kasih#colorhime pic.twitter.com/X9xaoZ6UiN

— TandaKoma (@koma_tanda) May 27, 2020
I saw this like last week or so and I had to color her #ColorHime thank you for letting us color her @Crunchyroll pic.twitter.com/Tt8PeYCkcJ

— Callingsound (@callingsound) May 15, 2020
Thanks for the lineart, she's so cute ????#ColorHime pic.twitter.com/dQEou96IlM

— STYX (@styx_tw) May 2, 2020
#ColorHime @Crunchyroll_PT @arara_ pic.twitter.com/TQUhezku3Z

— Guaxain-do-campo Guigo (@Gui_Yuki) May 2, 2020
I joined the #ColorHime challenge made by @Crunchyroll / @Crunchyroll_it pic.twitter.com/MZiPdWAEPv

— ????SENPAI D???? STAY HOME, STAY ROCK! (@Arachan85) May 26, 2020
@Crunchyroll_ar
اتمنىماشوهتها#ColorHime pic.twitter.com/Zl6GgcS6Dv

— Fadelabbas78 (@Fadelabbas781) May 1, 2020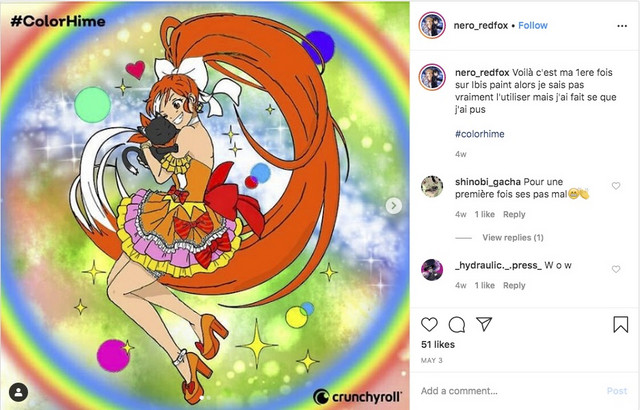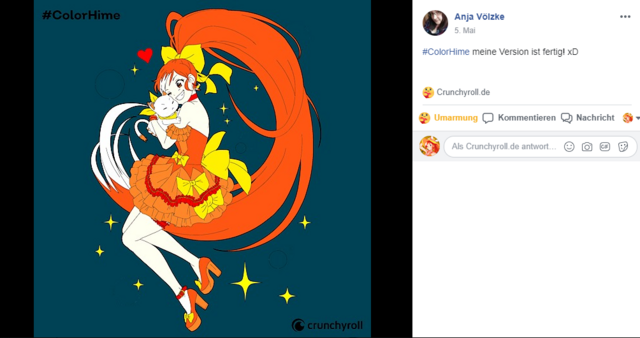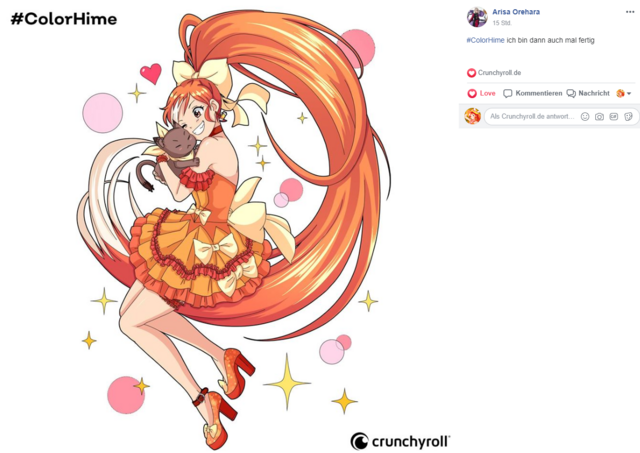 Questi spettacolari lavori sono solo la punta dell'iceberg, vale dunque la pena di scandagliare l'hashtag #ColorHime su Twitter e Instagram.
Buon compleanno, Hime!
L'immagine in alto è di @styx_tw

-------
Notizia originale di Joseph Luster