Prévu pour le mois de septembre !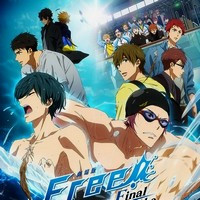 Le studio Kyoto Animation a mis en ligne sur sa chaîne YouTube un nouveau trailer pour le premier film d'animation Free! The Final Stroke. On a un aperçu du voyage tant attendu de Haruka pour le tournoi à Sydney.
Un visuel promotionnel a également été dévoilé :
On entend un extrait de la chanson thème. Il s'agit de Heading to Over - Version:Free -, interprétée par Oldcodex. Comme son nom l'indique, il s'agit d'un remake de l'opening de la saison 3 de l'anime. Le CD sera disponible au Japon dès le 15 septembre prochain.
Le film sera en deux parties, la première sera diffusé à partir du 17 septembre au Japon. Quant à la seconde, il faudra patienter jusqu'au 22 avril 2022.
Quant à l'anime Free!, les trois saisons que comptent la série sont disponibles gratuitement et en intégralité sur Crunchyroll !
Synopsis : Free! nous entraîne dans la vie de quatre lycéens passionnés de natation et se connaissant depuis l'école primaire.
Source : ANN