Take a walk with me down memory lane and revisit the Digital World just in time for Digimon Adventure tri!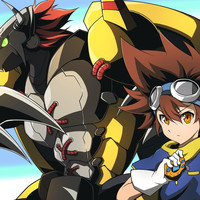 Fanart Friday returns, and today I'll be your guide to revisit the adventure a lot of us started 15 years ago. Last week, we celebrated Mother's Day with fanart galore of the sweetest fictional moms we know and love. Let us then get lost in the Digital Art World of today's edition!
Digimon Adventure was created by Akiyoshi Hongo and produced by Toei Animation in partnership with Bandai and Fuji TV. The series' first installment ran for 54 episodes and its first episode aired in Japan on March 7th of 1999 and has since spawned several sequels, spin-offs, videogames and movies.
We are going back. Are you coming?
DISCLAIMER: None of the art presented is the property of myself or Crunchyroll. All characters and series are tm and © their respective creators and corporate owners. All art is the creative property of their respective artists. Any artists who wish to have their work removed from this article may contact me, and appropriate action will be immediately taken.
by アク
8 DigiDestined and their Digimons...
by 烏鴨
...are once again reunited around that symbolic bus.
by いもみかん
Everything started on that summer camp on August 1999.
by こな
...all the fun memories and adventures they had with their new friends.
by ultmte (READER SUBMISSION!!)
I tip my hat to you, ultmte. That pun is hilarious!
by 着香料
It was about confronting evil... (I am not the only one who thinks of Katekyo Hitman Reborn! when looking at this image, right?!)
by hajime
...and growing, together!
by OroNoDa (READER SUBMISSION!!)
If there was ever characters in Digimon that had a legendary feel to them, Angemon and Angewomon take the spot for me. Divine virtue at the vanguard of the Digimons! (Trivia time! Did you guys know that the characters in the ribbons read "Dejitaru Monsutaa (Digital Monster)"?! I sure did not!)
by きゅう
Diasuke also got to visit the Digital World...
by 餅子
...and confront Diablomon (in the 4th Digimon Movie) after defeating Myotismon. (Love this mashup with Star Wars, which is also making a comeback with Episode VII!)
by 芋(犠牲)
In Digimon Tamers, Terriermon was always my favourite!
by hajime
But Guilmon and Takato were also really cool~
by 矛
And their fused form is one of the best designs I have seen.
by DoyleSyu
But of all the biomerged forms, Sakuyamon tops my list!
by 殿下@ざくろす
And while Beelzemon was seen as the bad guy...
by 殿下@ざくろす
...I think we can all agree his redemption was one of the best in the Digimon series.
by アキラさん
Digimon Tamers was a refreshing change for the series and remains in my top three.
by osaosa
Digimon Frontier aired in Japan in Spring of 2002 and while it's not my favourite Digimon series, it takes the second spot, losing to Digimon Adventure.
by 綿貫もすけ
The fact that the whole series revolved in DigiDestined assuming Digimon forms was great. Character design for this installment is excellent! Agunimon looking good~
by トニシ
Takuya's beast form was something else, I remember jumping out of my couch with excitement! BurningGreymon and Takuya in the picture.
by 焦げたもやし
Fairymon always passed this sense of happiness and freedom that remains strong, even in fanarts. I wonder how she relates to Lillymon?
by Daimprikorn
I loved how they incorporated another set of wings in Izumi's (Zoe's) beast form.
by カロ
Googles have always been a characteristic detail of anime & manga protagonists in Japan. Can you spot the odd one out, though?!
by VAV
What surprises await Taichi and friends on this new adventure?
by T K G
I am sure that regarldess of the hurdles, their friendship will topple all.
by 稜夜アメ
And it seems like, just like us...
by Maro
...they are also looking forward to it!
by のぎ
We have all grown up...
by Luo.
And just like Taichi and Agumon wait...
by neko壺
...we too, shall wait for the next trip to the Digital World.
That's it for this week's Digimon Art Festival, there are so many series and so much art that I couldn't cover it all. The world of Digimon has grown to become a very big and well established franchise among fans of all ages. What's your favourite memory of Digimon? Let us known in the comments section below!
If you were wondering about Digimon Adventure tri. recently a preview was released, which offers information about the cast and the release plans. Keep an eye on this tag for the latest info about Digimon!
As usual, remember your work is always welcome on Fanart Friday, regardless of your skill level or experience. Want to share your art? Just PM Nate a link to your work (full URL, please) and make sure it's hosted on a site like Deviantart or Pixiv, and he will make sure to include it in a future installment! Here are the next three themes for Fanart Friday...
-> Next week, on May 22nd, will be a day for Fanboys and Fangirls! Could we expect some Genshiken entries?! Only one way to find out!
-> A week later, on May 29th, we'll be remembering characters we've lost! Neji, I am thinking of you! ;_;7
-> And lastly, on June 5th, we'll start off a month-long personality trait types... First in line are TSUNDERES! Palmtop Tiger, I am a big fan!
Thank you for checking out this Fanart Friday Edition! My name is Jose Antonio aka Stipervetz and I have been the host of this installment. Hope you guys have a great weekend and do drop by next week for another mindblowing #FF!