The new storytelling project by Mugi Takanka continues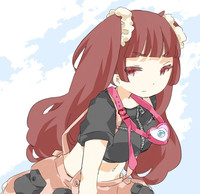 Artist Mugi Tanaka's "kawaii sci-fi" storytelling project, PARK Harajuku: Crisis Team!, continues this week at Crunchyroll with a helping of bonus material as we go inside the mind of MARI the gang's resident Gothic-Lolita. Plus, a trio of new items get unlocked including the priceless "Love Fighter" Sugar Star" magic wand. Enjoy below!
In case you are just joining us, PARK Harajuku: Crisis Team! is a collaboration with between Mugi Tanaka and the PARK store in Harajuku and it is exclusive to Crunchyroll! For more information about the project, check out the previous links here on Crunchy News!
To read the previous chapters, check out PARK Harajuku: Crisis Team! updates on Tumblr.
And speaking of previous chapters, this week's update makes a lot more sense given the context of where we are in the story right now. So before the bonus material, once again, here's our main story page and text from before…
That's it for our installment this time, but expect more artwork and story from Mugi Tanaka and the PARK Harajuku gang next week.
In the meantime, sign up and follow our rather remarkable SNS links!
Crisis Team! on Crunchyroll Manga
------
Patrick Macias is editor in chief of Crunchyroll News and Otaku USA magazine. He is also the author of the HYPERSONIC music club webcomic.