"Cruising the Crunchy-Catalog" explores the 2014 TV anime based on Sou Hamayumiba's manga about yosakoi dancing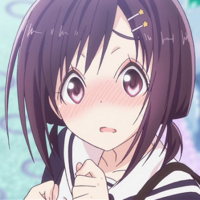 Dance Fever.
When it comes to this crazy dance we call anime, some series will make you want to get up and groove and some will make you wish that you'd stayed in your seat. In this metaphor, let "Cruising the Crunchy-Catalog" be your stern but helpful coach. Each week we provide additional info and cultural context about an anime in Crunchyroll's library of titles to help fans determine whether or not they'd like to give it a whirl.
What's HaNaYaMaTa?
HaNaYaMaTa is a 2014 TV anime with direction by Atsuko Ishizuka (A Place Further Than the Universe) and animation by MADHOUSE (Chihayafuru). The series is based on the manga by Sou Hamayumiba, which was serialized from 2011 – 2018 in Houbunsha's Manga Time Kirara Forward seinen manga magazine. Crunchyroll describes HaNaYaMaTa as follows:
Naru is a high school girl who is average in every way. She loves fairy tale heroines, though she's never had the courage to escape her ordinary life. One day, she sees Hannah, a transfer student, dancing in the moonlit and becomes inspired to learn Yosakoi dancing.
A (mostly) gentle school comedy about a group of young girls discovering their passions for the performing arts, HaNaYaMaTa examines youth through rose-colored glasses while at the same time drilling down to a layer of emotional honesty that is sometimes absent from anime about adolescent protagonists.
The Emotional Core.
Unlike many shows with teenage protagonists, HaNaYaMaTa understands the fears and uncertainties that are unique to adolescence. The main character, Naru Sekiya, wishes to be radiant while performing yosakoi dances, but her youthful dreams are tempered by deep insecurities that go far beyond mere stage-fright.
The other main characters are similarly burdened by conflicting mental and emotional states such as jealousy, overconfidence, and impostor syndrome. Failure is also an important story element. For example, Yaya Sasame only joins the yosakoi club after her amateur rock band fails to debut and falls apart. Seeing how the characters outgrow their frailties and overcome setbacks is half the joy of HaNaYaMaTa.
Tradition vs. Self Expression.
Japan places incredible social pressures on young people to conform to traditional roles, so the focus on yosakoi dancing in HaNaYaMaTa is an interesting choice. Yosakoi is a boisterous and energetic art form, mixing modern music with traditional folk dance moves, but it also requires careful coordination for the dancers to move in sync with one another.
During public performances, yosakoi costumes lean toward traditional festival clothing styles (such as yukata) while also leaving enormous room for self-expression, represented in the series by the girls decorating their costumes with symbolic flower motifs. In this way, yosakoi becomes a perfect metaphor for the lives of the girls as they try to balance who they wish to be against what the world expects of them.
Flowery Nostalgia and the Spring Time of Youth.
Many anime are aimed at young audiences, and as a result these shows tend to romanticize youth. With its cheerful, pastel color scheme, flowery visuals, and lighthearted comedy, HaNaYaMaTa definitely plays toward nostalgia, but the series is so firmly grounded in emotional realism that this rosy focus on what it means to be young never comes across as cloying or self-indulgent.
You Can Dance If You Want To.
Crunchyroll currently streams HaNaYaMaTa in 208 territories worldwide, including the United States, Canada, Mexico, Brazil, the United Kingdom, Spain, France, Germany, South Africa, Australia, and New Zealand. The series is available in the original Japanese language with subtitles in English, Spanish, French, Portuguese, Arabic, and German.
HaNaYaMaTa is also released on Bluray and DVD in North America by Sentai Filmworks.
Cute and warm-hearted but still packing an emotional punch, HaNaYaMaTa is a good series for any fan who knows how difficult it can be to follow your dreams. If the series is available in your area and if that sounds like your cup of tea, please consider giving HaNaYaMaTa a try.
Is there a series in Crunchyroll's catalog that you think needs some more love and attention? Please send in your suggestions via e-mail to [email protected] or post a Tweet to @gooberzilla. Your pick could inspire the next installment of "Cruising the Crunchy-Catalog"!
---
Paul Chapman is the host of The Greatest Movie EVER! Podcast and GME! Anime Fun Time.