In the face of incredible odds, The Promised Neverland never gives up on hope.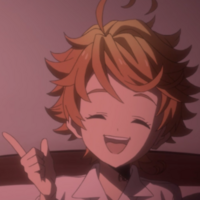 There's usually a few tropes that are deeply threaded into all series that originate in Shonen Jump; a plucky protagonist, fierce battles with ideals on the line, and a struggle for one's place in the world. As far as Jump series go, The Promised Neverland is no different, featuring a group of young children struggling for survival in a world that wants them dead. This time, it's not a battle filled with magical abilities, but rather, a battle of wits as the children plan their escape. It's the kind of story that becomes darker upon reflection, considering just how terrible the situation is from the start. The world may not be destroyed, but death is horrific and final. Although the situation is bleak, it isn't only bleak; the thread of hope is truly one of the strongest parts of the series.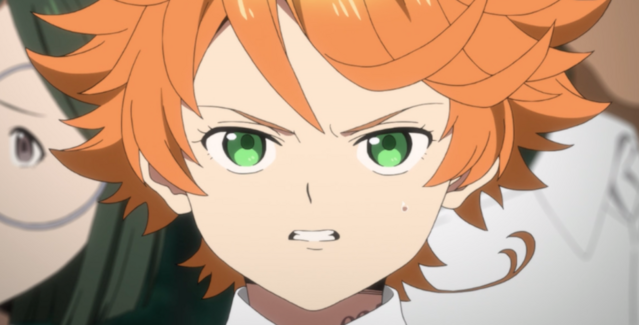 There's no question that for the children of Grace Field House, the odds are stacked against them. Their mother, Isabella, is a crafty and highly capable woman who is dead set on keeping the children in line, no matter what the cost. She is completely committed to her role as the house's Mama, and will fulfill that duty with all that she has. While she was still at the house, Sister Krone was an additional set of eyes, further restricting the childrens' movements. Any dangerous chemicals or instruments that could be used to harm others, such as knives or cleaning supplies, are carefully monitored. Their home is a cushioned cage, and is perfectly constructed so that the children stay imprisoned up until their final hours.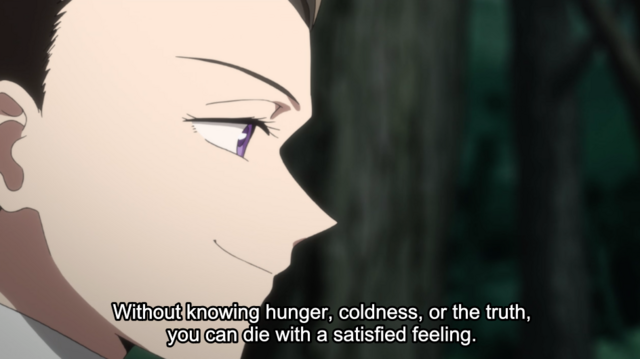 Most importantly, this is a story of children against adults. On a smaller level, fighting against adults means they are already outclassed in terms of physical abilities, resources, and navigation. On a larger level, it isn't just a single powerful villain that the kids are fighting, but a society that's actively turned its back on them. Their current society wishes for the children to stay imprisoned and fed to the demons, so they can't get help from the outside. There are no allies on the outside, so it's up to the children and only the children to figure out a way to freedom if they want to live. If they manage to escape from the house, being free doesn't change the fact that the society at large is set up so that they are destined to fail.
As of last week, a devastating thing happened: Norman was taken away. Up until then, the trio of Emma, Norman, and Ray had been the driving force behind the house's silent rebellion and possible escape plan, and were inseparable as a unit. They all complimented what each other lacked: Emma with drive and optimism, Norman with strategy, and Ray with practicality. They weren't just friends; they were family, and now that family has been broken apart. Not only does this disrupt the escape plan, but also changes the group dynamics. Don and Gilda are key members, but they can't replace Ray. Emma's leg was broken, and even if months had passed, it's still unclear whether she has completely healed up or not.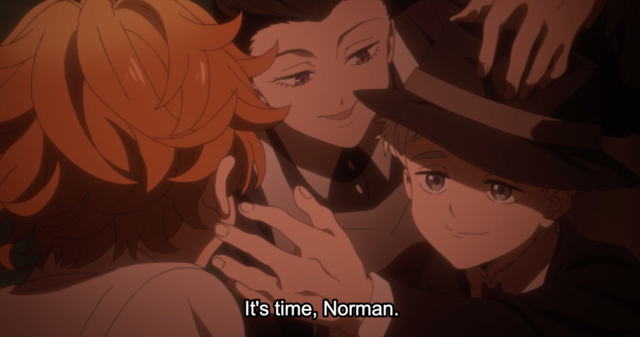 Despite this, there is never a sense of despair setting in. For many series, it's easy to see how the incredible pressure or overarching sense of despair would cripple or bend the main cast. Under such dire and uneven circumstances, it's not unnatural to feel paralyzed or overwhelmed in the face of such terrible odds. Focusing on characters in despair isn't that uncommon in media; sadness and drama is more enticing, after all. There is none of that in this series, but instead a constant sense of adapting to new circumstances. Whenever there is a new obstacle, the kids are fluid; they acknowledge that the obstacle poses a problem, but they don't freeze in the face of it. They adjust their plans accordingly and keep going, no matter what. It is true that they don't have the upper hand, but that doesn't mean that they're totally powerless either. Everyone, especially Emma, continues pushing forward, and most of all, it's believable. They truly believe that if they work hard, they can escape, and constantly striving towards that goal is only a natural extension of that. There are no miracles, only continuous determination in the face of despair.
It's very easy for hope to feel cheesy or unbelievable. There are only so many times you can hear characters talking about how everything will be okay and how the future will be fine before the phrases start losing their meaning. At the same time, there is never a feeling of hope being overwhelming or hamfisted in this series. Victory seems farfetched, but it doesn't seem impossible. A low chance of success isn't the same thing as no chance of success, and as long as the kids keep fighting, that chance remains a possible reality. We want the kids to succeed, we want them to be free, and the series constantly posits that attaining freedom is an obstacle course, not a finality.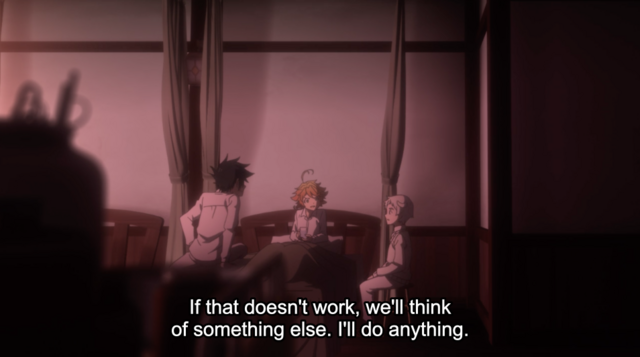 There is no magic, no superpowers, no incredibly flashy fights. There are demons, but this is a relatively mundane world with no rank-up power to come along and change the tide. Overall, the structure of the story is quite bleak, and spun differently, could be an incredibly depressing tale. Even so, unhappiness isn't the highlight of the show, but instead the absolute determination to keep striving forward is. Against all odds, Emma hasn't given up; the plan is still going forward. It's still too early to tell if the children all end up finally escaping, but we know for sure that they won't stop trying until they do.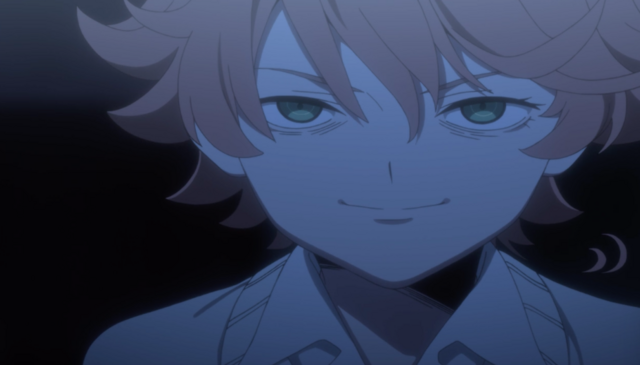 What do you think of how the show is proceeding? Let us know in the comments!
---
Noelle Ogawa is a contributor to Bubbleblabber and Cup of Moe. She can be found on Twitter @noelleogawa.
Do you love writing? Do you love anime? If you have an idea for a features story, pitch it to Crunchyroll Features!