With the summer season nearly upon us, today let's explore some of the most talented artists and directors working on upcoming productions!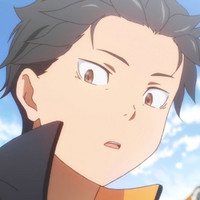 Hello everyone, and welcome back to Why It Works. The Spring anime season is pretty much concluded at this point, and a fresh slate of anime is waiting just around the corner. The Summer 2020 season is actually looking a bit lighter than most seasons, which is no surprise, given the state of the world at large. But that's not to say there are no big shows to look forward to — in fact, while perusing through the upcoming attractions, I was actually quite impressed to see how many of my favorite directors and artists would be showing off their skills this Summer. Today on Why It Works, let's highlight a few of those talented creators, and see what shows we've got to look forward to over the next few weeks!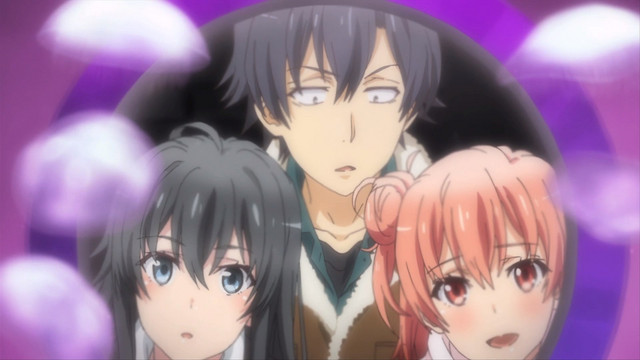 First off, we can't really talk about the Summer season without first mentioning its array of high-profile sequels. I've already written at length about how excited I am for the third season of My Teen Romantic Comedy SNAFU, but it bears repeating that SNAFU is one of the best character dramas/romantic comedies around — and that its director, Kei Oikawa, is a uniquely talented creator. The hilarious Hinamatsuri offered plentiful evidence of Oikawa's mastery of comedy, while This Art Club Has a Problem! demonstrated his exceptional talent for emotional moments and clear reverence for delicate character acting (oftentimes in collaboration with gifted animator Ryo Araki). With him at the helm, SNAFU is in exceptionally good hands.
Other major sequels will also be benefiting greatly from strong hands at the wheel. Re:Zero's first season was tremendously elevated through the unique talents of director Masaharu Watanabe, and he'll be returning in force to handle the sequel. Having cut his teeth drawing key animation for a variety of Kyoto Animation classics, Re:Zero was actually Watanabe's breakthrough hit as a full director. But between Re:Zero and last year's action-packed Granbelm, Watanabe demonstrated a unique talent for both action choreography and general cinematography, along with a natural affinity for vibrant colors that will surely elevate Re:Zero's sequel as well.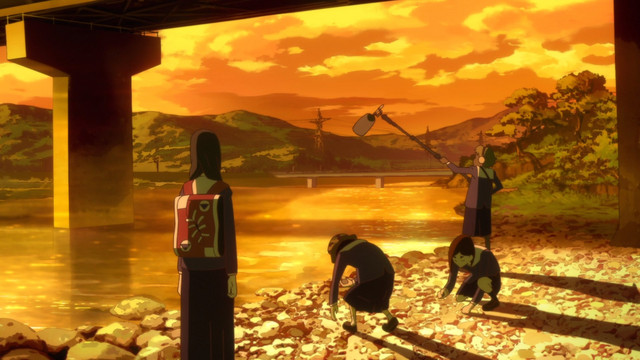 Moving outside the sequels, this summer will also be featuring a new production courtesy of Masaaki Yuasa and his talented team at Science Saru. Yuasa is without question one of anime's all-time greatest directors, and his productions run the gamut from the inventive science fiction of Kaiba to the brutal violence of Devilman Crybaby. Considering he just finished directing the endlessly imaginative Keep Your Hands Off Eizouken! last winter, this is actually the shortest time we've had to wait between Yuasa shows — but given the uniquely realistic material and thrilling previews of his upcoming Japan Sinks, I have every reason to believe it'll stand as one more beautiful feather in his cap.
In terms of lesser-known quantities, though, the show I'm perhaps most intrigued by is the upcoming Deca-Dence. As an anime-original property by the newly formed studio Nut, Deca-Dence would be a unique curiosity regardless — but as it so happens, Deca-Dence is also being directed by Yuzuru Tachikawa, one of the fastest-rising stars in anime. Tachikawa first got his directorial breakthrough with the excellent Death Parade, but these days he's better known as the director of the truly incredible Mob Psycho 100. Mob Psycho 100 is a gorgeous production from start to finish, and with Deca-Dence reuniting Tachikawa with Death Parade animation director Shinichi Kurita, I'm eager to see what the two of them cook up this time.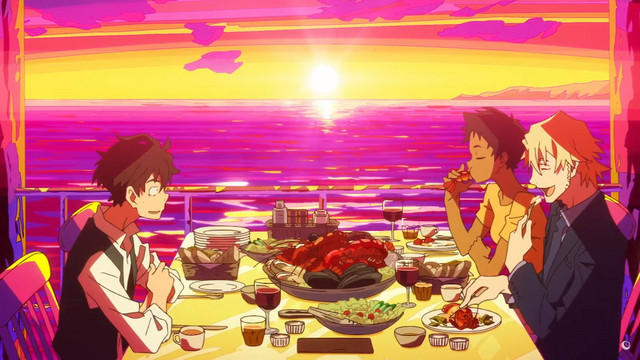 Beyond the acclaimed directors, the Summer season will also be featuring some truly legendary artists handling art and character designs. The Great Pretender's director Hiro Kaburagi is well-positioned to handle this energetic new crime drama, given his experience helming the tonally similar 91 Days — but it's character designer Yoshiyuki Sadamoto I'm most excited about. Having handled character designs for a variety of Gainax classics, including Evangelion and FLCL, Sadamoto is rightfully considered one of the most prestigious artists in the medium, and I'm delighted to see him working again. Meanwhile, Yoshitaka Amano is a name respected even outside the anime sphere, as his beautiful early work illustrating early Final Fantasy games eventually blossomed into a career as an artist renowned across mediums. With next season's Gibiate featuring his own character designs, I'm excited to see how his work looks in motion.
All in all, in spite of being a relatively limited season in terms of the overall number of properties, Summer 2020 is actually pretty stuffed when it comes to acclaimed anime creators. We've got plenty of exciting anime to look forward to this season and many of the best talents in the industry backing them up. Next season is looking bright!
I hope you've enjoyed this exploration of the Summer season's brightest stars, and please let me know what you're all looking forward to most in the comments!

---
Nick Creamer has been writing about cartoons for too many years now and is always ready to cry about Madoka. You can find more of his work at his blog Wrong Every Time, or follow him on Twitter.
Do you love writing? Do you love anime? If you have an idea for a features story, pitch it to Crunchyroll Features!