With English and Chinese subtitles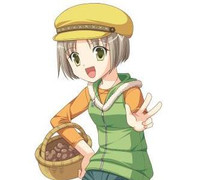 Aichi Prefecture, which is located in the Chubu region of Japan, has started posting 12 official travel PR videos "Walking In Date de Chita" featuring 12 moe/bishoujo group called "Chita Musume." on YouTube since April 2011. The dating sim-like videos have been viewed more than 100,000 times in three months.
"Chita" of "Chita Musume." is taken from the peninsula of the southern part of the prefecture, "Chita Hantou (peninsula)". And "musume" means daughter, girl, and young woman in Japanese. Yes, it's just like Morning Musume. Each 10 girls represent 10 cities in the peninsula and the two female staff support them. In the videos, the 10 girls introduce you the sightseeing spots in their area just like having a date with you.
The voice actresses who play "Chita Musume." are the local high school girls chosen by the audition.
They have already released their first MP3 album on June 6, and took No.1 spot on the Amazon Japan's
weekly MP3 album ranking. Even a manga series is scheduled to be published in the end of the year.
I post first three PR videos and one PV here. You can check the rest via Aichi Prefecture's official
YouTube channel. So which girl do you want to date with in Chita?
Walking In Date de Chita ep.1 "Chita Milk"
Walking In Date de Chita ep.2 Tokai City "Tokai Syuu"
Walking In Date de Chita ep.3 Obu City "Obu Akane"
Chita Milk's "Moero! Chitahantou" PV
Source: Mainichi Shimbun
© Aichi Prefecture