Premieres September 26th in Japan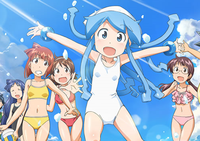 @geso_degeso, the official twitter account of the Squid Girl TV anime has announced that the ending theme to the second season of the series, known as Shinryaku!? Ikamusume in Japan, will be sung by Hisako Kanemoto, the voice actress for Squid Girl.
Meanwhile, it has been revealed by multiple sources that, having been invaded by Squid Girl, voice actress unit Sphere will be singing the opening theme "High Powered." Sphere has previously sung the opening theme songs for Ichiban Ushiro no Daimao and Otome Yokai Zakuro, among others. The single containing the opening theme will be released on October 26th.
The second season of Squid Girl will begin airing on September 26th in Japan. Media Blasters has licensed the series for North America and will be the releasing the first DVD set on September 27th.
Image ©Masahiro Anbe (Weekly Shonen Champion) / Umi no Ie Lemon Ni-go ten