More live action alternate history with flip-flopped gender politics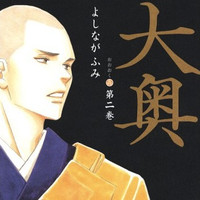 Fumi Yoshinaga's Ōoku: The Inner Chambers was adapted into a film in 2010 featuring Kazunari Ninomiya, Kou Shibasaki, and Maki Horikita, but it looks like more live action is on the way.
If you haven't been reading Viz's English release of the manga, now in its 6th volume, the story is basically a re-imagining of medieval Japan's history. Due to a disease, most of the male population is wiped out, and instead of male rulers keeping harems of women, the girls are now in charge.
First up, a TV drama picks up where the movie left off. Ōoku: Arikoto-Iemitsu Arc covers volumes 2-4 of the manga beginning this October on TBS in Japan. Masato Sakai (who recently had a voice role in Osamu Tezuka's Buddha: The Great Departure) will play Arikoto and Mikako Tabe (who starred as Sawako Kuronuma in the recent Kimi ni Todoke live action movie) is cast as Tokugawa Iemitsu.
Following the end of the TV drama, the second live action movie will be released on December 22nd. Ōoku: Emonnosuke-Tsunayoshi Arc covers volumes 5-6 of the manga. Sakai returns as Arikoto and also plays Emonnosuke, while Miho Kanno (Shohi in 2007's Sakuran) is cast as Tokugawa Tsunayoshi. Fuminori Kaneko directs again and Yumiko Kamiyama is handling the screenplay.
via Natalie
©2012男女逆転『大奥[右衛門佐・綱吉編]』製作委員会
©よしながふみ/白泉社