Based on the classic Maxell ad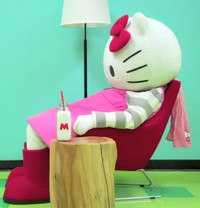 After recent music-themed collaborations with the likes of AKB48, KISS, and even a stint as a club DJ, a line of Hello Kitty hi-fi equipment must be a glaringly obvious move for the world's favorite cat-with-no-mouth. And so, Sanrio has seen fit to bless us with a video commercial for Hello Kitty Mini Speakers. Watch the ad below and wonder who the heck is inside that suit.....
Some of the more culturally literate among you may have spotted that the ad is a parody of the classic Maxell cassette tape commercial from the early 1980s. We present it here, free of charge, for your edification:
And yes, listening to cassette tapes was EXACTLY like that! Let's hope that Hello Kitty Mini-Speakers can measure up!