One-volume manga was released in North America by Tokyopop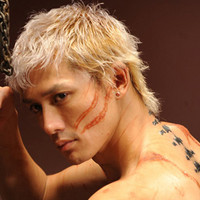 Cinema Asia Releasing (CAR) has acquired the North American rights to the live-action adaptation of Smuggler, a one-volume manga that had been localized by Tokyopop. The 2011 movie brought together Katsuhito Ishii, maker of the remarkably warped comedy Funky Forest, with an equally strange story by Shohei Manabe.
From the description of its Toronto Film Festival world premiere:
After his dreams of becoming an actor go nowhere, 25-year-old Kinuta does nothing but gamble every day. Broke, framed and now neck-deep in debt, he is recruited as a smuggler – an underground mover of everything from dead bodies to illegal goods – but one cargo triggers the rage of a psychotic gangster hellbent on revenge. By acclaimed cult director Katsuhito Ishii of Shark Skin Man and Peach Hip Girl and Funky Forest fame.
CAR was founded last year, with plans to release 8 to 10 movies theatrically, on DVD, and through video-on-demand a year.
via Screen Daily