3DS strategy RPG styled after 2005 PS2 RPG "Namco X Capcom"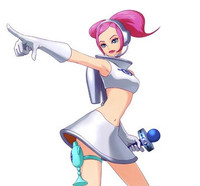 After weird chromosome teaser images and an ominous countdown, we know what Namco Bandai, Capcom, and Sega are up to for their secretive 3DS project! Titled Project X Zone (pronounced "Project Cross Zone"), the game will be a strategy RPG in the vein of Namco X Capcom, featuring characters from a substantial number of titles from all three companies.
Coming up to bat are characters from Street Fighter, Mega Man X, Tales of Vesperia, Resident Evil, Sakura Wars, Xenosaga, Tekken, Virtua Fighter, Devil May Cry, .hack, Shining Force, Super Robot Wars, and Space Channel 5--and that's just for the initial announce! Expect more of your favorites to be announced later--Namco Bandai has stated that the current roster is not final.
Check out these screenshots and artwork--are any of your favorites present?
I wasn't kidding when I said that there were a ton of characters, was I? This gigantic mishmash was Namco Bandai's idea--specifically producer Kensuke Tsukanaka. They later brought in Capcom and Sega, and named it Project X Zone since it's a totally new project, and not an actual follow-up to Namco X Capcom. While there aren't any details so far on the battle system, but characters will fight in specific teams, like how you see Ryu and Ken, X and Zero, or Jill and Chris pairing up in the above screenshots, although there will be exceptions.
With this game finally being revealed as a handheld strategy RPG, I'm sold, because I'm a huge addict fan. Project X Zone is about halfway through its development and set for a release in late 2012--would you want this game to come Stateside? What characters do you want to see in this crossover?