Featuring Asuka, Rei, Mari, Shinji, and Kaworu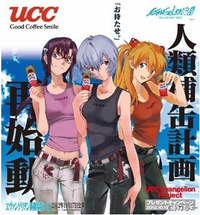 As reported, UCC Ueshima Coffee, a coffee and tea company based in Kobe, Hyogo Prefecture, has been in business with the Evangelion franchise for more than a decade. Now they are back for the third installment of the Rebuild of Evangelion film tetralogy, Evangelion: 3.0 You Can (Not) Redo. In commemoration of the release of the 3.0 film in Japan, UCC will offer a new UCC coffee can pack featuring the Evangelion characters on October 15. At the same time, UCC will start a new promotional campaign "UCC Evangelion Project" which 500 fans can get a special figure of Mari Makinami Illustrious or an original TOKYO-3 T-shirt produced by EVA-T STORE.
Anime online stores in Japan including Evangelion Store start accepting pre-orders for the Eva coffee today on September 4. The retail price for one 6 pack is 720 yen (about US$9.19) and for a case (6 pack x 5) is 3,600 yen (US$45.94). A clear file featuring Asuka will come with the case. The illustrations for the pack are drawn by Takeshi Honda, one of the animation directors of the tetralogy.
Clear file for the case
Source: MyNavi News
© Khara