The anime film will be released in Japan on September 29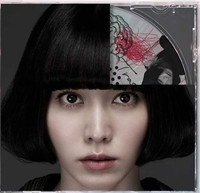 In commemoration of the release of Asura, the anime adaptation film of George Akiyama's controversial manga in 1970s and its theme song "Trash," the theme song singer Yasuha Kominami will perform live at Tsukiji Hongan-ji, a Jodo Shinshu Buddhist temple in Tokyo for the first time in her career on September 25. The screening of the digest version of the film and the exhibit of Akiyama's original arts will be also held.
The title and the protagonist's name "Asura/Ashura (阿修羅)" is a guardian god of Eight Legionstors of Buddhist Teachings in Buddhism, or fighting demons more commonly. And the concept of Buddhism is deeply related to the story of Asura. That's why the temple is chosen for the event. The film directed by Keiichi Sato (Tiger & Bunny) hits Japanese theaters on September 29, four days after the event.
"Asura" trailer
Theme song "Trash" short version PV
Source: Natalie
© George Akiyama/Asura Production Committe