Launch date and broadcast time TBA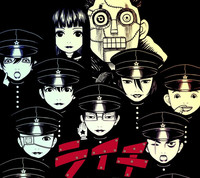 Crunchyroll adds a new title to the fall 2012 anime season with Lychee Light Club, based on the dark and quirky alternative manga by Usamaru Furuya, published in English by Vertical Inc.
Details on launch date and broadcast time are to be announced later, but for now, I'm personally happy to see a product of the Japanese subculture comics scene get some play here on Crunchyroll.
Here's the story synopsis...
The cramped town of Keiko-cho is stained black with factory exhaust and oil. Late one night, a piercing whistle echoes from some ruins in a seemingly empty corner of the town, accompanied by the eerie echoes of harsh words spoken in German. The sounds come from a group of nine boys dressed in the starched collars and caps of high school uniforms. There in the darkness stands a secret base built by these nine boys under the leadership of Zera, the 'king of the ruins,' known as the Light Club.
All those who lay eyes upon this secret base are subject to harsh punishment by the club members at the order of their revered leader, Zera. They are so defensive because, night after night, the members gather at the club to build a machine that they intend to use for some secret, sublime purpose.
Then one night, their machine, Lychee, awakens at last. What is the goal that the club has imposed upon this bizarre machine? And what fate awaits the Light Club, grasped in the hands of the tragic maiden, Kanon?
The curtain is about to rise on the horror story of these young boys who have chosen to remain beautiful forever and refuse to become 'ugly adults,' driven by the lust and madness born of their youthful purity and violence...
Lychee Light Club will be available to Crunchyroll's audience in the following territories: North America, South America, United Kingdom, Ireland, South Africa, Australia, New Zealand, Denmark, Finland, Netherlands, Norway, and Sweden.
-------
Patrick Macias is editor in chief of Crunchyroll News. He also runs the Japanese Fashion Inferno tumblr blog. Follow him on twitter at @Patrick_Macias.