Footage from the Tokyo Premiere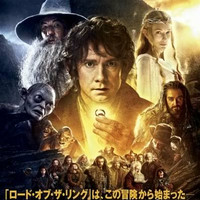 A sizeable chunk of Middle Earth dropped smack in the middle of Tokyo's glitzy Roppongi Hills complex on Saturday as the director and stars of The Hobbit: An Unexpected Journey made an appearance for the Japanese premiere of the highly-anticipated new film.
Director Peter Jackon, along with Martin Freeman (aka Bilbo Baggins), Andy Serkis (Gollum), Richard Armitage (Thorin), and Elijah Wood (Frodo Baggins) were there to attend the second-ever public screening of the first Hobbit film following the world premiere in New Zealand last Wednesday.
We could spend the rest of the day transcribing the red carpet event and the press conference that followed, but what do you know? Some noble person from the race of Men captured both on video!
The Hobbit: An Unexpected Journey opens on 12/14 in Japan and other parts of the world, including the USA.
------
Patrick Macias is editor in chief of Crunchyroll News. He also runs the Japanese Fashion Inferno tumblr blog. Follow him on twitter at @Patrick_Macias.