Haruka covers the first disc release of the anime, with more merchandise listed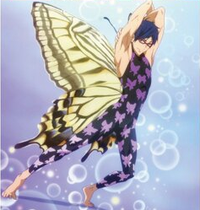 The official site for sexy swimming anime, Free! updated with the cover art for the vol. 1 of the home video release. It will be available on September 11th in Japan. The site has also updated the goods page.
Haruka covers the first disc volume and will contain episodes 1 and 2 as well as including a special sleeve package, alternative disc jackets, full-color special booklet, end card illustration post cards, original short movies, FrFr! ~Free! Short movies~ #1, "Makoto No Nayami (Makoto's Worry)" and "Buin Boshu! (Join The Club!)" and non-credit opening/ending music videos. It will be 7,140 yen for BD and 6,090 yen for DVD.
Goods pages were also updated with following merch.
iPhone 5 covers 2,980 yen
Collection Coasters (19 total designs), a pack of 2 for 137 yen or a box of 20 for 2,740 yen
Pikuriru! Free! Fan 1,500 yen
Cork Coasters, a pack of 2 for 525 yen
Free! Glass Tumbler 1,050 yen each (Gray part of the illustartion is where you can see the glass)