13 episode arc would be set between movies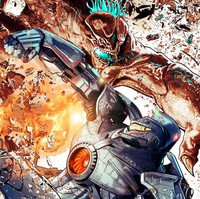 Guillermo del Toro has been all over the place in anticipation of this weekend's debut of the FX adaptation of his vampire novels The Strain. At Collider, he was discussing his mecha versus kaiju Pacific Rim projects including the sequel, and an animated series which might be produced in Japan.
GdT told the site
"We are right now in the middle of talking and negotiating with a few Japanese companies for the animation. We are talking to a couple of showrunners that have a strong animation background, [we're] casting the writers room. What's great is it's a great set-up and a link between the first movie and the second movie. It really enhances the mythology of the characters; we have cameos of characters from the first movie, but mostly it's a new set of characters. New jaegers, except for one or two, [and] new kaijus. It's really fun."
"We're going for a long arc, so the idea is to show a group of characters—we have pilots, functional jaegers, but we have all these younger characters. I really want to explore things that are complimentary to the things that I want to explore in the second movie: drift, what drifting does to you, what is needed to drift, a lot of stuff that I think is important, but also the jaeger technology, the kaijus being evolved, ideas about the precursors—the guys that control the kaijus. We have a lot of leeway in 13 episodes and I wanna make it sort of in the same spirit of Pacific Rim, which is the ideal audience for Pacific Rim was young—very young, 11-year-olds and so forth—but with really beautiful design and stories that make these characters interesting in a way that I found them interesting in, for example, Year Zero, the graphic novel that we did. And I think that's the basic thrust of the thing."


-------
Scott Green is editor and reporter for anime and manga at geek entertainment site Ain't It Cool News. Follow him on Twitter at @aicnanime.