Take your Blitzball game to the next level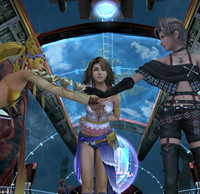 Final Fantasy X | X-2 HD Remaster was just released for PlayStation 3 and PS Vita not long ago, but if you missed out on those platforms and still want to experience these games, there's hope for you yet! It's headed to PlayStation 4 in North America as of May 12 and May 14 in Japan.
Along with the obvious visual improvements you'll be able to expect from the PS4 version, you will be able to transfer saves across all consoles you own the game on. You can also use remote play with your Vita, and enjoy the game with either the original or remastered PlayStation 4 version soundtrack.
Check out some improved visuals below and get hyped to experience these beloved games again on the PlayStation 4!
[via Gematsu]
-------
Fueled by horror, rainbow-sugar-pixel-rushes, and video games, Brittany is a freelancer who thrives on surrealism and ultraviolence. Follow her on Twitter @MolotovCupcake and check out her portfolio for more.