The second TV anime adaptation is already in the works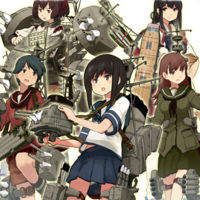 Four days before its second anniversary, the official Twitter for the Kantai Collection/KanColle browser game announced yesterday that it had three million registered users now. The game was developed by Kadokawa Games and is distibuted by DMM. It started its service on April 23, 2013, and the initial estimated number of its total users was only 100,000. By October of the yaer, six months after its launch, it already attracted one million players.
The franchise has expanded into various media, including manga, novels, tabletop role-playing game, music CDs, and TV anime. The 12-episode TV anime was produced by Diomedea and was aired from January to March of this year. The production of the second season was announced in its last epissode.
TV anime main visual
PlayStat­ion Vita game "KanColle Kai" 1st trailer (August 27, 2015 release)
Source: "Kantai Collection/KanColle" browser game official Twitter
©2015 DMM.com POWERCHORD STUDIO / C2 / KADOKAWA
©2015 "Kancolle" Combined Fleet Headquarters