First episode will be available on Crunchyroll on July 8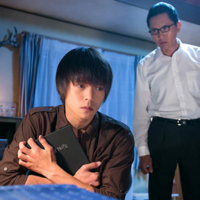 The controversial live-action TV drama adaptation of the Death Note manga series created by Tsugumi Ohba (story) and Takeshi Obata (art) got off to a strong start in Japan on Sunday night. The 90-minute premiere averaged a 16.9 rating in the Kanto area, which was the highest record for the first episode of a TV drama started on Japanese commercial television this year, according to Video Research.
As reported, the drama series has a lot of changes from the original manga story. For example, the protagonist Light Yagami (Masataka Kubota) is portrayed as an ordinary university student, instead of the genius high school student. He is also a big fan of three-member idol group Ichigo Berry (see their photo below), and Misa Amane (Hinako Sano) is one of its members. Probably those changes stimulated audience's interest at least on the first episode.
The live-action TV drama series kicks off with a 90-minute long first episode on July 8 at 7:30pm Pacific
Time. It will be available to Crunchyroll members in the following territories: USA (and Canada, Central
and South America (including the Carribean), UK, Ireland, Denmark, Finland, Norway, Sweden, Iceland,
the Netherlands, South Africa, Australia, New Zealand, Russia, Europe (except for Italian speaking territories),
the Middle East, and North Africa.
Ichigo Berry (Marin/Serina, Hinako Sano/Misa, Nozomi Tachibana/Mako)
まもなく!イチゴBERRYが汐留大屋根広場でステージに登場するぞー!!クックック…三人とも緊張してるぜ。俺様が和ませてやるか…あっ、俺様の姿見えねーんだった。ステージ脇で見守ってやるか。ニコ生もみろよー!#デスノート pic.twitter.com/xflvfEJB3N

— 【公式】日曜ドラマ 『デスノート』 (@drama_deathnote) 2015, 7月 4
Hinako Sano as Misa on the cover of Weekly Playboy Magazine July 6 issue
Source: Manatn Web