Starts October 2 at 6:30pm Pacific Time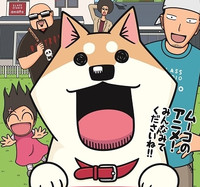 The new anime announcements keep on dashing out of Crunchyroll today, and Lovely Muuuuuuuco!, based on the manga Itoshi no Muco by Takayuki Mizushina, is the next title on the slate! Lovely Muuuuuuuco! is set to broadcast every Friday starting October 2 at 6:30pm Pacific Time. For more information, visit www.crunchyroll.com/lovely-muuuuuuuco.
About Lovely Muuuuuuuco!
Based on the manga Itoshi no Muco by Takayuki Mizushina, Lovely Muuuuuuuco! tells the story of the Akita dog Muco, and its glassblower owner Komatsu-san. The manga launched in Kodansha's Evening magazine in 2011, and ranked #6 on the 2013 list of "Top 15 Recommended Manga by Bookstores."
The cast includes Satoshi Hino, also known for his role as Isaac on Log Horizon, as owner Komatsu-san, and Hitomi Yoshida, who also voiced Haru Miura in REBORN!, as his pet dog Muco. The rest of the cast includes Hiroki Takahashi as Muto-sensei, Junji Majima as Ushiko-san, Kaori Nazuka as Shinohara-san, Keiji Fujiwara as Boda-san, Sumire Uesaka as Rena-chan, and Yu Kobayashi as Tamaki-kun.
Lovely Muuuuuuuco! will be available to Crunchyroll members in the following territories: United States, Canada, Central and South America (including the Caribbean), South Africa, Australia, New Zealand, Europe, the Middle East and North Africa.
-------
Patrick Macias is editor in chief of Crunchyroll News & Otaku USA magazine.
He is also the writer of HYPERSONIC music club, Paranoia Girls, & PARK Harajuku: Crisis Team!