It's almost a shame that you have to wear them beneath your clothes.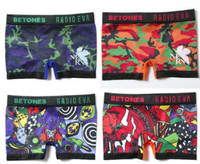 If you want to show off how big of an Evangelion fan you are but don't really like T-shirts and accessories inspired by anime or video games, underclothing might be the best path for you. A new collaboration between Radio Eva and underwear creator Radio Eva has a bright new collection of Evangelion-inspired underwear that's just as awesome as it sounds.
There are two different versions of the boxers and they feature artwork from Akiko Ban, emblazoned with images of Eva Unit-01 and Unit-02. They're about $24.66, and you can purchase them via the Evangelion Store.
Seriously, just look at 'em. They're awesome.
[via Anime News Network]
-------
Fueled by horror, rainbow-sugar-pixel-rushes, and video games, Brittany is a freelancer who thrives on surrealism and ultraviolence. Follow her on Twitter @MolotovCupcake and check out her portfolio for more.