Mobile card game featuring male idol units also getting stage play this June in Tokyo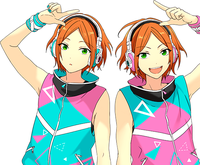 During AnimeJapan on Saturday, the cast members for the forthcoming stage play adaptation of the Ensemble Stars mobile game joined developers Happy Elements to confirm a 2017 debut for the animated adaptation of the mobile game. The event also confirmed a new stage show being held this June in Tokyo featuring several members of the mobile game's voice cast from the 18th to the 26th.
Ensemble Stars is yet another mobile card game in the vein of LoveLive School Idol Festival where players collect male idols in training to develop their skills and level them up to unlock new songs and branching paths in the main storyline, which involves the player being the first female transfer student at the all-boys Yumenosaki Private Academy to enroll in the school's "Producer" course, where the player is tasked to develop the male students into future idols and units. The game currently only available officially in Japan for Android and iOS, but there's a small, dedicated following for the game in the West.
---
Humberto Saabedra is the Owner of AnimeNews.biz and a part-time recording engineer. He can also be found musing on things at @AnimeNewsdotbiz