Let Kero and Suppi keep your hands from being burned!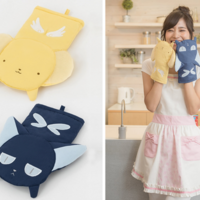 Not everyone can be a magical girl, but everyone needs a pair of oven mitts to protect their hands when cooking! That's why you need these Kero-chan and Suppi oven mitts that are dedicated to keeping your hands cool when handling hot things straight out of the oven.
Super Groupies is offering a pair of each, as well as a Card Captor Sakura apron for while you're whipping things up in the kitchen. They're absolutely adorable, and a must for otaku magical girl fans who spend a lot of time cooking.
You can place orders right now via Super Groupies' website, and the oven mitt pair is about 5,800 yen ($52) with the aprons running 6,800 yen ($62). Orders are being taken from now until June 18, but the items won't be delivered until later this year in September. That should give you plenty of time to brush up on your cooking skills.
[via RocketNews24]
-------
Fueled by horror, rainbow-sugar-pixel-rushes, and video games, Brittany is a freelancer who thrives on surrealism and ultraviolence. Follow her on Twitter @MolotovCupcake and check out her portfolio for more.