They're only available in Japan right now, but true love waits!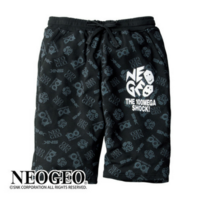 If you love the Neo Geo enough to wear an article of clothing that isn't a T-shirt emblazoned with icons of the famous console, then we've got the shorts for you. There's a special pair of shorts with the Neo Geo logo all over them that are manufactured by Neo Geo!
The shorts have a large Neo Geo logo on them as well as an allover print, and they're currently only available in Japan. If you really want a pair there are ways you can order them, but these are truly only shorts for the hardest of core Neo Geo fans. Are you bad enough to be a huge Neo Geo fan and rock these shorts?
If so, you can pick up a pair here. Keep in mind the sizing differences between Western clothing and smaller sized Japanese clothing that tends to trend smaller if you do buy these rad shorts!
[via GoNintendo]
-------
Fueled by horror, rainbow-sugar-pixel-rushes, and video games, Brittany is a freelancer who thrives on surrealism and ultraviolence. Follow her on Twitter @MolotovCupcake and check out her portfolio for more.