Exclusive Theatrical Release on 7.26, One Night Only Event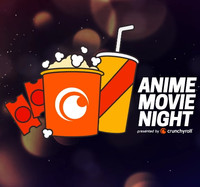 We couldn't be more thrilled to officially announce our next Anime Movie Night event – The Ancient Magus' Bride theatrical release! We are proud to host an exclusive world premiere screening of The Ancient Magus' Bride. Starting TODAY, tickets are now available for the event taking place one night only on July 26 in nearly 300 theaters across the country. Fans will be able to purchase tickets to their local screening event at animemovienight.com.

Synopsis: Hatori Chise has lived a life full of neglect and abuse, devoid of anything resembling love. Far from the warmth of family, she has had her share of troubles and pitfalls. Just when all hope seems lost, a fateful encounter awaits her. When a man with the head of a beast, wielding strange powers, obtains her through a slave auction, Chise's life will never be the same again.
Crunchyroll will partner with Screenvision Media and KAOS Connect to debut the first three episodes of The Ancient Magus' Bride upcoming series on the
big
screen
.
The Ancient Magus' Bride is adapted from the wildly popular manga of the same name and comes from notorious WIT STUDIO, the studio that brought you
Attack on Titan
. Norihiro Naganuma (Yowamushi Pedal movie director, Death Note key animator) is directing the anime, and Aya Takaha (Psycho-Pass screenwriter) is penning the scripts. The theatrical screening will take place months before the series airs in Japan, and will include never-before-seen Crunchyroll exclusives before the screening, including the premiere and behind-the-scenes look at the creation of
Crunchyroll's first-ever original short
Children of Ether
.
Children of Ether is a collaboration with creator LeSean Thomas (The Boondocks, Cannon Busters). The project includes character designer Hiroshi Shimizu (Michiko and Hatchin), storyboard director Shingo Natsume (One Punch Man), animation director Yûichi Takahashi (Gatchaman Crowds Insight) and animator Mitsuo Iso (Neon Genesis Evangelion). Thomas himself directed the project. Children of Ether tells the story of Rhonda, a woman with a dark past and a mysterious power, as she journeys through a decaying, dystopian metropolis populated by raiders, gangs and the supernatural.
For more information on
Anime Movie Night
or to purchase tickets to
The Ancient Magus' Bride Exclusive Theatrical Release
, visit
animemovienight.com
Also, don't forget – you can watch The Ancient Magus' Bride prequel OVA episodes, currently streaming on Crunchyroll!