From Ichigo's "News From The Front" (Bad Religion) to Dondonchakka's "Centerfold" (J Geils Band)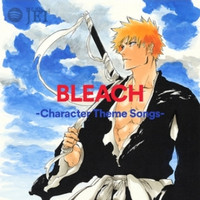 As part of the promotional campaign for the two-volume set of his Bleach manga series' illustration collection book "JET" to be released on December 4, the author Tite Kubo revealed the "theme music" for the manga's 68 characters on the special site for the book. 16 of the 68 songs were previously revealed in the manga's 33rd volume released in 2008, and this is the first time to list all 68 songs at once. You can check 45 songs from the list via a collaboration play list on Spotify.
"Bleach" character theme songs picked by the manga author Tite Kubo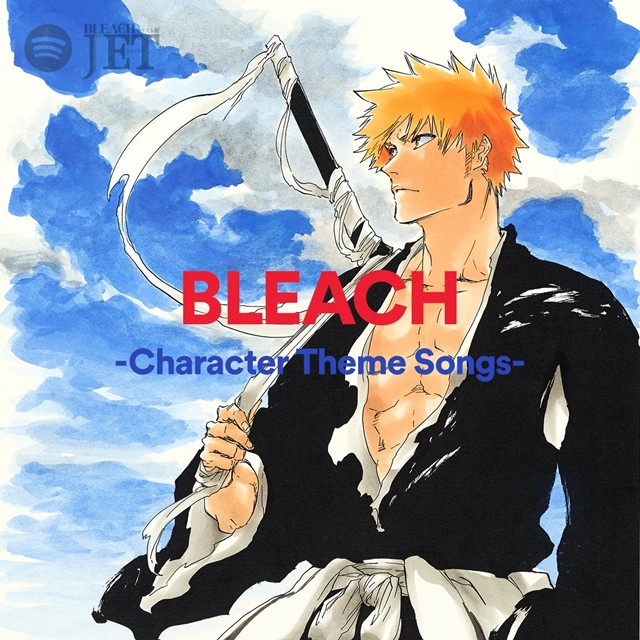 Karakurachou:
1. Ichigo Kurosaki - "News From The Front" Bad Religion
2. Isshin Kurosaki - "Don't Drag Me Down" Social Distortion
3. Tatsuki Arisawa - "Mou Aoi Tori wa Tobanai" hàl
4. Yasutora Sado - "No Song Unheard" The Hellacopters
5. Orihime Inoue - "T'en va pas" Elsa
6. Kon Ichigo ver. - "Tanaka-san, Nichiyoubi Dance" Kuuki Koudan
7. Kon Nuigurumi ver.- "Bushman" RIP SLYME
8. Don Kanonji - "Farandole 'L'Arlésienne Suite No. 2'" Georges Bizet
9. Uryu Ishida - "Idioteque" Radiohead
10. Kisuke Urahara - "The Sacrifice" Michael Nyman
11. Yoruichi Shihouin - "Kumoji no Hate" Cocco
Soul Society:
12. Rukia Kuchiki - "Wing-stock" Ashley MacIsaac
13. Renji Abarai - "Norainu" Hazu feat.Ill-Bosstino
14. Byakuya Kuchiki - "Je Chante Pour Passer Le Temps" Giovanni Mirabassi
15. Yachiru Kusajishi - "Yoo-hoo!" Sora Izumikawa
16. Kenpachi zaraki - "Superpredators (Metal Posteard)" Massive Attack
17. Shunsui Kyoraku - "Por una Cabeza" Carlos Gardel
18. Jushiro Ukitake - "Back To The Innocence" Jonathan Cain
19. Genryusai Shigekuni Yamamoto - "Mars, the Bringer of War" Gustav Holst
20. Chojiro Sasakibe - "Down By The Quay" Minaton
21. Suì-Fēng - "She-Wolf" Megadeth
22. Marechiyo Ohmaeda - "Oh My Darling" Bobby Summer
23. Gin Ichimaru - "Snake-Tongued Beast" Saybia
24. Izuru Kira - "Anata wa Umi no Soko" Mikoto Momono
25. Retsu Unohana - "Cold Light Of Day" HALO
26. Isane Kotetsu - "Kiss Me" Sixpence None The Richer
27. Hanataro Yamada - "Eple" Royksopp
28. Sousuke Aizen - "Symphony No. 5 'Revolution' 4th movement" Dmitry Shostakovich
29. Momo Hinamori - "Glass Elevator" Tornado Tatsumaki
30. Sajin Komamura - "Don't Turn Away" White Wolf
31. Tetsuzaemon Iba - "Tiger & Dragon Kanzen-ban" CRAZY KEN BAND
32. Nano Ise - "Sumire" Chiaki Seike
33. Kaname Tousen - "Battle Lines" John Wetton
34. Shuhei Hisagi - "Rock & Roll Over" Mr. Big
35. Toushiro Hitsugaya - "Girls Not Grey" A.F.I.
36. Rangiku Matsumoto - "C'etait La Belle Vie" Sylvie Vartan
37. Ikkaku Madarame - "Mugen no Kouya" THE BACK HORN
38. Yumichika Ayasegawa - "Akai Hana" Siamese
39. Mayuri Kurotsuchi - "The Dope Show" Marilyn Manson
40. Nemu Kurotsuchi - "Lamb Of God" Marilyn Manson
41. Akon - "Theme From Ernest Borgnine" Squarepusher
42. Kaien Shiba - "Kantsubaki" Masurao Commissioner
43. Ganju Shiba - "Sakura" Handsome Kyoudai
Hueco Mundo:
44. Grimmjaw Jaegerjaquez - "Step Inside" Bomb L.A. (A Bombs)
45. Ulquiorra Cifer - "Moonshield" IN FLAMES
46. Yammy Riyalgo - "Powertrip" Monster Magnet
47. Coyote Stark - "Los Lobos" Dragon Ash
48. Lilinette Gingerbuck - "I Want To Hear What You Have Got To Say" The Subways
49. Baraggan Louisenbairn - "Genesis (The Making And The Fall Of Man)" Running Wild
50. Charlotte Chuhlhourne - "She Is Beautiful" Andrew W.K.
51. Ggio Vega - "Drain The Blood" The Distillers
52. Findorr Calius - "Dance, Dance" Fall Out Boy
53. Tier Halibel - "Helicopter" Bloc Party
54. Emilou Apacci - "The First" Tegan & Sara
55. Cyan Sung-Sun - "Hoshi no Shizuku" Mimizukuzu
56. Franceska Mila Rose - "Who's Your Daddy?" Lordi
57. Nnoitra Gilga - "Megalomaniac" Incubus
58. Tesra Lindocruz - "Still Standing" The Rasmus
59. Zommari Rureaux - "Jujutsushi (Seiken Densetsu 2 OST)" Hiroki Kikuta
60. Szayelaporro Grantz - "Rape Me" Nirvana
61. Aaroniero Arruruerie - "Deeper Underground" Jamiroquai
62. Luppi Antenor - "Keep Your Eye On The Twisted" Pink Cream 69
63. Wonderweiss Mergera - "Re:volution (Radio Edit)" Coldcut
64. Dordoni Alessandro Del Socaccio - "Owarinaki Tatakai (Soul Calibur 2 OST) Junichi Nakazuru
65. Cirucci Sanderwicci - "Alle Fragen sind gestellt" Musical "Elisabeth"
66. Nelliel Tu Odelschwanck - "Wrapped" Gloria Estefan
67. Pesche Guatiche - "MOTIONS" Straightener
68. Dondochakka Birstanne - "Centerfold" J Geils Band
---
The 500-page deluxe book "JET" includes more than 700 full-color illustrations drawn during the manga's
15-year serialization, newly-drawn arts by the author for the book, and rough sketches that have never
been shown in public before. The size of the book is A4 (210 × 297 millimeters), and the price is 16,000
yen (before tax about 146 US dollars).
"JET" is a print-to-order item and pre-orders will be received at bookstores across Japan and online stores
between June 4 and August 20.
PV
Source: "Blaech Illsutration Collection JET" PR Office press release