Full 3DCG series will be streamed worldwide on Netflix in 2020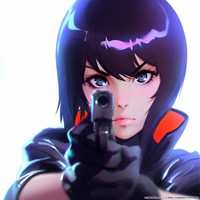 The official Twitter for Netflix Japan Anime posted an image of Motoko Kusanagi from Ghost in The Shell SAC_2045, the latest installment from the anime series based on Masamune Shirow's sci-fi action manga, and also announced that Russian illustrator Ilya Kuvshinov serves as character designer. The full 3DCG series will be streamed on Netflix worldwide (except China mainland) in 2020.
Kuvshinov's most recent work in Japan was the character designs for Keiichi Hara's anime feature film Birthday Wonderland released in April 2019. He says, "The reason why I started loving Japanese anime was Mamoru Oshii's 'Ghost in The Shell' that I saw when I was 6. I am so honored to participate in a new series in the franchise that has been so important to me. I am drawing the designs of Motoko and others with the love and respect for 'Ghost in The Shell' in my heart."
Netflixオリジナルアニメシリーズ
『攻殻機動隊 SAC_2045』
新ビジュアル解禁❗️

世界から注目を集める気鋭のロシア人イラストレーター、イリヤ・クブシノブがキャラクターデザインを担当✨

新たに描かれる草薙素子たちによる「攻殻機動隊」、乞うご期待!2020年全世界独占配信予定!#ネトフリアニメ pic.twitter.com/gcMimYynMd

— Netflix Japan Anime (@NetflixJP_Anime) 2019年6月12日
As reported, Ghost in The Shell SAC_2045 will be co-directed by two creators: 53-year-old Kenji Kamiyama (Ghost in the Shell: Stand Alone Complex series) and 58-year-old Shinji Aramaki (APPLESEED, Starship Troopers: Invasion). The two have also been working on the full 3DCG anime adaptation of Eiichi Shimizu's ULTRAMAN manga, which has been streamed on Netflix since April 2019.
Teaser visual posted in December 2018:
【速報】
Production I.G × SOLA DIGITAL ARTS
   神山健治 × 荒牧伸志

Netflixオリジナルアニメシリーズ
『攻殻機動隊 SAC_2045』
2020年 #ネトフリ で全世界独占配信決定!

「攻殻」史上初のW監督システムで、フル3DCGアニメーションとして生まれ変わる―!続報をお楽しみに!#ネトフリアニメ pic.twitter.com/IsSLSc0u2O

— Netflix Japan Anime (@NetflixJP_Anime) 2018年12月8日
---
Source: Neflix Japan Anime Twitter
© Masamune Shirow,Production I.G/KODANSHA, Ghost in The Shell 2045 Production Committee