NBA star Rudy Gobert on his love for One Piece and more!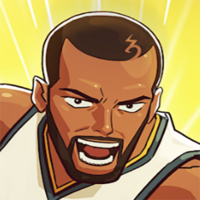 Anime fans come from all walks of life and in all shapes and sizes. Some are students, some are scientists, some are doctors, some are artists, and some are even nationally-recognized professional sports figures! Crunchyroll All-Stars is a series of interviews highlighting elite professional athletes who harbor a passion both for their sport and for anime!

Today's profile is on Rudy Gobert, a French-born basketball player who plays center for the Utah Jazz and also represents the French National Team. France is also known for their love for anime and manga, and Gobert is no exception. Gobert is a serious fan of One Piece, drawing many life lessons and motivations from the Straw Hat Crew captain himself. We spoke with Gobert about how he got into anime and more in our interview below.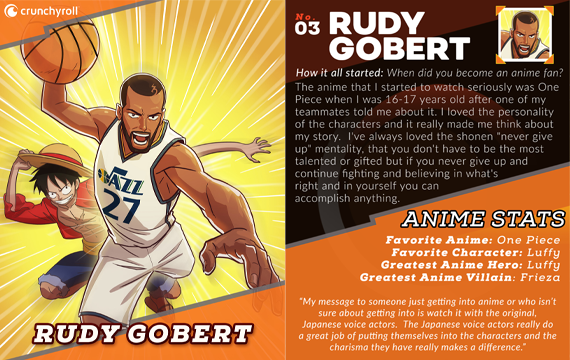 (click through for full size image)


When did you become an anime fan? Was there a specific moment that affected you or changed the way you felt about something?

As a kid I used to watch Pokemon, I had all the cards and video games and was a huge fan. It was the first connection to anime that I had. The anime that I started to watch seriously was One Piece when I was 16-17 years old after one of my teammates told me about it. I loved the personality of the characters and it really made me think about my story. I've always loved the shonen "never give up" mentality, that you don't have to be the most talented or gifted but if you never give up and continue fighting and believing in what's right and in yourself you can accomplish anything. I love that mentality and it's a big reason why I love anime.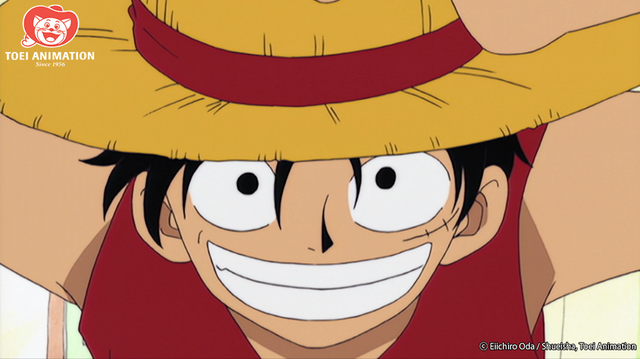 Are there any ways you engage with your favorite anime series or characters aside from watching them?

I have a few figurines at home. I also like to play anime video games—I used to play Dragon Ball, One Piece, Naruto. I don't cosplay but I enjoy everything that comes with being a fan.

What's your favorite anime series of all time, and why?

I have to go with One Piece. Overall, the characters and the story is my favorite so far. There are a few others I really enjoy like Death Note, Naruto, Dragon Ball, but One Piece is #1.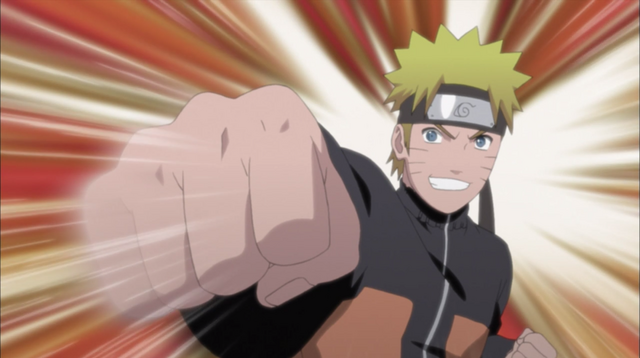 Who's your favorite anime character of all time, and why?

Luffy. I really like his mentality. He's real and I think I'm the same. Sometimes I'm too honest with people and they don't always like it, but I really don't know how to be fake. I also don't take myself too seriously all the time and I feel Luffy's the same. 

Who would you rank as the top anime hero ever, and why?

Luffy here as well. I really like his personality when it's time to win and fight for what he thinks is right. He always does it, and I'm the same way.

Who would you rank as the top anime villain ever, and why?
Dragon Ball is the first anime I ever watched, so I would say Frieza. But I really like Blackbeard's powers, just not his personality.


Have you ever taken any elements or learnings from anime and implemented them into your daily life? If so, explain

The never give up mentality I mentioned earlier. If you really believe in your dreams, I believe that you can actually achieve them. It's never going to be easy and most people don't believe in you but if you believe in yourself you'll get closer and closer to your dreams. If you surround yourself with the right people that you're loyal to and are loyal to you, anything is possible.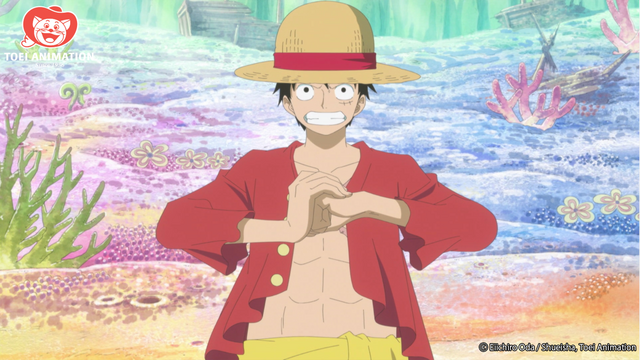 It feels like more and more athletes are showcasing their love for anime — what's anime fandom like in the NBA? And what do you think it is about anime that attracts athletes?
I don't have a lot of guys on my team who really love anime. I haven't really talked about anime with a lot of them, but I used to have Derrick Favors who's a big fan but he's now playing for the New Orleans Pelicans. When I was playing in France, a lot of my teammates were big anime fans actually. I feel like in America, a lot of people don't know about anime the way they know about it in Europe and overseas. Hopefully, we get more and more anime fans in the NBA.

For athletes, it's a way of relaxing but at the same time enjoying yourself. I like that anime has a lot of episodes. Let's take One Piece, for example, you have so many episodes and they're kind of short so if you don't want to watch 2 hours of One Piece, you can just watch 1 or 2 episodes and you can watch a few episodes every day and just relax and enjoy yourself.

Last question: what would your message be to someone who recently discovered anime and was thinking about getting into it?
My message to someone just getting into anime or isn't sure about getting into is watch it with the original, Japanese voice actors. The Japanese voice actors really do a great job of putting themselves into the characters and the charisma they have really makes a difference. I've watched One Piece in different languages and nothing can really match the Japanese version. Give anime a few episodes and you should be able to really enjoy it. And if you don't, try another anime. Although I've never seen someone not like One Piece...or even Dragon Ball...but if you don't like it, try another one. All the people I know that have listened to me and started an anime have got hooked so give it a chance!